My Left Foot (...and Why High Performance Cars and AV Are the Same)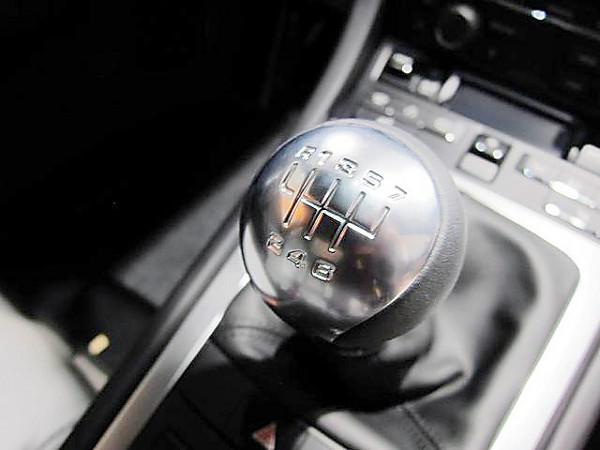 I am shopping for a new car. For me, a car is more than basic transportation. In fact, getting from point A to point B is far down on my list. For example, I would gladly trade a practical item such as a spare tire in return for a bit more performance. Things like cargo capacity and riding comfort are unimportant, while horsepower and 0-to-60 times are critical. I've always appreciated slick audio/video gear. Same thing with cars.
One of my biggest car-buying decisions is manual versus automatic transmission. Over the years, every single car I've purchased has been a stick shift. For me, a stick is an integral part of the driving experience. It makes me feel like I'm a part of the machine, instead of just an operator. Stick shifting requires some skill, and expert heel-and-toe work requires considerable skill. Traditionally, real performance cars—drivers' cars—had manual transmissions. Automatics were for everyone else.
That has changed. While most automatics are just slushboxes, many performance cars now have automatics that are far from slushy. For example, the Porsche Doppelkupplung transmission, known as PDK, is an automatic, but it's thoroughly modern. It has two electrohydraulic clutches, one for even gears and one for odd. While in any gear, the transmission has already preselected the next gear, and the shifts are nearly instantaneous. The computer with its two clutches is far faster than any human with one clutch. Acceleration is quicker; on a twisty course, you have two hands on the wheel, not one; PDK even yields better fuel economy than Porsche's brilliant seven-speed stick. And there is my dilemma. Stick shifting may be sentimentally preferable, but transmissions like PDK perform better.
Cool versus new. It's the same as in audio/video. How many of you only bought manual turntables, instead of record changers? Manual turntables were for individuals who appreciated music playback; changers were for everyone else. Similarly, you stuck with vacuum tube amplifiers long after solid state showed its worth. You might still be sticking with records. You set your home theater levels and delays by hand, rather than use auto setup. You insist on calibrating your TV yourself, rather than rely on a preset. You like a hands-on approach.
Anyone can press a menu button and cause bits to convert into sound. But how many people gently take the record from its dust jacket, being careful not to touch the grooves, wipe the surface of the record, and place it on the turntable platter, carefully brush off the stylus, start the machine's motor, and lightly place the stylus in the groove? Without question, that ritual is vitally important; it shows that you are a true enthusiast, a purist.
When I buy a new car, will I choose manual or automatic? Ferrari and Jaguar no longer offer sticks. The Porsche 911 GT3, which Edmunds calls "the baddest Porsche on the block," only comes with PDK. Fewer than 4 percent of new cars sold in the U.S. have stick shift. Old guys might argue that sticks are more fun to drive, but younger drivers, who rarely see a stick, much less learn to drive one proficiently, often don't think twice about getting an automatic. In a few years, manual transmissions will probably disappear altogether.
In my brain, I know that an automatic transmission is superior. By all technical metrics, an automatic like PDK would give me the absolutely best-performing car. But in my heart, I still want a stick shift. Sticks have given me decades of pleasurable and exciting driving. But should I allow my choice to be driven by nostalgia? A clutch pedal—isn't that just old-fashioned?
So, will I buy stick or automatic? Old-school or modern? Honestly, I haven't decided yet. And although my listening room has servers and menus and lots of algorithms and countless data bits, the turntable isn't going anywhere.

SPONSORED VIDEO