More for Less and Blasts from the Past
The Consumer Electronics Association has not yet released total attendance figures, but it appears fairly certain that the 2003 CES will go down as the best attended in CES history. I've covered all of the shows in Las Vegas since the annual winter consumer electronics show moved here in 1978 (there used to be a summer show in Chicago as well), and I can say that the first Las Vegas CES could have fit into the lobby for this one-with room to spare. But down to business: new products for home entertainment. Yamaha trumped its competitors when it came to whole-house music servers. The Yamaha MusicCAST system does it all. This W-Fi (802.11b) wireless interactive system can supply music to seven independent client locations up to 150 feet away, fed from the MCX-1000 digital audio server with an 80-gigabyte (GB) hard drive, upgradable to 180 GB. With the 80-GB drive, that's 100 uncompressed CDs, or 1,000 discs in MP3 format at a typical compression rate. You can listen to one CD while ripping another. Each of the attractive "clients" contains a display screen and a 20-watt-per-channel stereo amplifier, so it can connect either to an existing system or standard nonpowered speakers. Users can override the clients from the main server-an attractive feature for parents. The MusicCAST server and one client will cost $2,800, and each additional client will cost $799 when they reach dealer shelves in May.
A Yamaha "client" for its whole-house MusicCAST system.
Yamaha also introduced a pair of high-definition video front projectors. The LCD LPX-500 ($5,500) and the DLP DPX-1000 ($12,000) not only supply a good picture but offer unusually detailed, clearly labeled menus of video adjustments, including many setup features normally accessible only to technicians. Since some users might adjust their way into problems, there's also a single button that returns all settings to their factory defaults. Denon introduced a new A/V receiver, the AVR-2803, with seven 90-watt channels and Dolby Digital EX and DTS-ES decoding. Ultra-high video bandwidth facilitates component-video switching without loss of quality. Perhaps most amazing is that the AVR-2803 will retail for about $800, a modest price, when it arrives in May. Complementing the AVR-2803 is the DVD-2900, a universal disc player capable of playing DVD-Audio and DVD-Video discs, Super Audio CD (SACD), and all varieties of CDs. Also slated for May, the DVD-2900 will sell for about $1,000.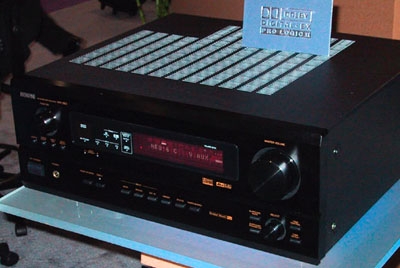 Denon's modestly priced seven-channel AVR-2803 digital surround receiver ($800, available in May).
Marantz is one of the few companies other than JVC supporting digital VHS (D-VHS), and it unveiled its high-definition MV8300 D-VHS deck, which will arrive in late March or April for $1,599. Marantz insists that the MV8300 is not a clone of the JVC deck and that it incorporates exclusive Marantz electronics and innovations along with the JVC transport. The deck includes a FireWire port and carries a list price of $1,599.
The Marantz MV8300 digital VHS recorder, available in late March or April for $1,599.
Whereas the new Denon receiver comes chock full of features at a modest price, Marantz's new flagship SR9300 receiver will go straight for the top at $3,199 when it arrives in April. It even uses the horizontal flywheel gyro tuning knob of the old late-1960s Marantz classics. It delivers 140 watts into all seven channels and decodes virtually every surround mode in existence. Definitive Technology revamped its speaker line with a new flagship bipolar tower, the BP7000sc ($2,500 each), slated for April delivery. Like preceding models, it contains its own powered subwoofer with a large-1,800 watt!-Class D amplifier. On a more diminutive side is the new ProCinema 60 six-piece system, which only
looks
like a typical subwoofer/satellite system-it sounds far better. It will retail for about $699 total when the speakers become available in March. Most appealing of the new Definitive Technology products are the Mythos speakers, comprising two slender towers ($799 each), slightly smaller surrounds ($499 each), and a center speaker ($499). The size and styling target users who want home theater speakers that match a flat-panel plasma or LCD TV. Mythos towers can be free-standing, tabletop, or wall-mounted. Mythos will be reality this summer.
Definitive Technology's Mythos One towers ($799 each) head up a system designed for home theaters built around flat-panel TVs.
TDK once advertised its cassettes as "the machine for your machine." Now TDK wants to supply your machine as well. It introduced a new combination hard-disk/CD audio recorder, the DA-9000 Jukebox, with a 20-GB hard drive. Two things separate the DA-9000 from the crowd. TDK put the USB port on the front for ease of access, and the price is only $380-many similar units are more expensive. It'll be available in the spring. The name Polaroid reappeared at CES. Although not the same company once headquartered in Cambridge, Massachusetts, it applies the logo and élan of the original to a stylish line of consumer electronics, which includes a number of DVD players and TVs. The brushed-chrome DVR-HD1 , a DVD player with a built-in 40-GB hard-disc video recorder, is a prime example (no price available).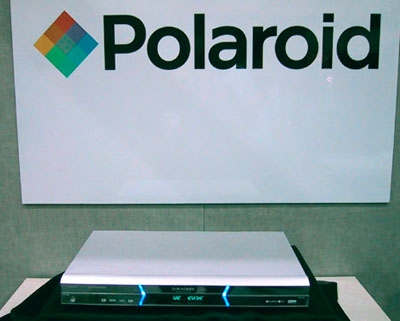 The Polaroid brand name has reappeared on a line that includes the DVR-HD1 DVD player/hard-disk recorder.
Digital Innovations introduced one of the most clever pocket MP3 players, the modular Neuros MP3 Digital Audio Computer. The tiny, solid-state MP3 player comes with 128 megabytes of built-in memory. Slide it into its "backpack," and it mates with a 20-GB hard drive and larger battery pack. Even in the backpack, it's smaller than the average cassette headphone stereo. Neuros contains an FM radio transmitter with a feature called MyFi that automatically scans the radio dial to find an empty spot to broadcast its music. Most interesting is the HiSi feature, which captures 30-second snippets of songs at a touch of a button. So if you're driving and hear a song you like, but don't get the title or can't write it down if you do, just touch the Neuros HiSi button. Then you upload the snippet to your computer, which goes to a site on the Internet and locates the title, artist, and CD information. Neuros also records, converting on the fly to MP3 from a line input, its internal FM tuner, or its built-in microphone. The basic Neuros will cost $249, or $399 with the hard-drive backpack when it goes on sale in February.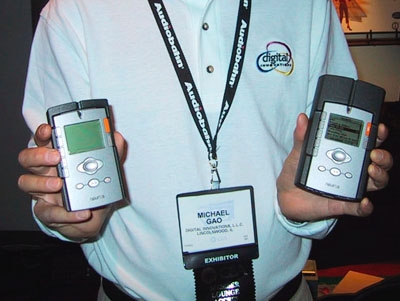 Digital Innovations' Michael Gao shows off the Neuros MP3 Digital Audio Computer, which he engineered. At left is the basic model ($249), at right one with a "backpack" containing a 20-GB hard drive ($399).
Finally, what's old is new again. Thorens reappeared at CES under new ownership with a full line of belt-drive turntables, although most of the new models use a new design different from the classic Thorens floating arm-platter design. They come with Rega tonearms but can also be ordered without an arm. The Model 850 costs $2,500, the Model 810 $2,000, and the Model 800 $1,500. For lovers of the classic floating design, Thorens offers an updated TD350 for $2,000. All will be available shortly. Thorens representatives said they were amazed at the degree of interest in their turntables.
A high-end Thorens turntable for analog diehards.
And that's it for another year! But you can count on
Sound & Vision
, whether online or in print, to keep you up to date on all of the ongoing developments-wherever technology becomes entertainment. (All photos by Rich Warren.)