More Headphones from CES 2021 and Beyond Page 2
Earbuds with a Twist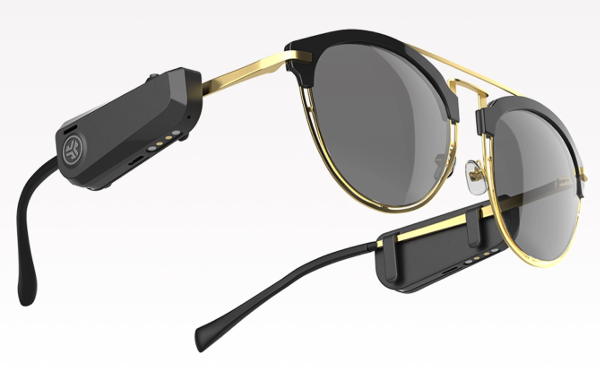 You Can Hang These 'Buds on Your Glasses
JLab Audio, a Carlsbad, CA-based company specializing in inexpensive headphones, has come up with a clever solution for those who like the idea of sunglasses with integrated "earbuds" but don't want to be married to a particular style frame or lens and are put off by high prices: Bluetooth-powered minispeakers you can attach to the temples of your favorite eyeglasses or sunglasses. They're called JBuds Frames and are slated to sell for $49 when they ship this spring.
Each "open-ear" audio device packs a 0.6-inch driver and microphone in splash-resistant plastic housing that weighs less than a half an ounce. The JBuds can be secured to almost any type of eyeglass frames via two small hooks and come with two sets of silicone sleeves to ensure a tight fit. A button on top of each bud controls music and phone calls and can be used to boost the bass and activate voice assistants.
Battery life is rated for 8-plus hours of operation and charge time is 2 hours via a USB cable with dual connectors that attach to the JBuds magnetically. The buds also support dual-connect technology for making calls and listening to music with one or both of the buds playing. A two-year warranty is provided. Visit jlabaudio.com for more information.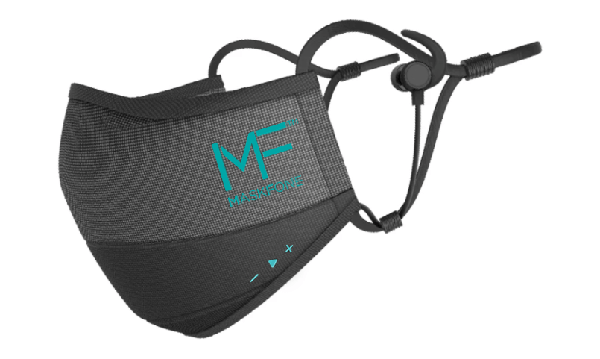 This N95-Grade Mask Has Built-in Wireless Earbuds
U.K.-based Binatone has introduced a product for the times — a pandemic mask with a replaceable medical-grade N95 filter and wireless earbuds that attach to its straps. The MaskFone ($50) aims to make it super easy to enjoy music and hands-free calling while you're out and about in public spaces. Worries about muffled phone conversations are overcome with the combination of an embedded microphone you speak directly into and the companion Hubble Connect app that boosts your voice for maximum clarity.
Environmental noise cancellation is also employed to suppress background noise, and the app has a voice-activation button programmed to wake Alexa and other compatible virtual assistants, including Siri and Google Assistant. Alternatively, you can use the buttons on the lower part of the mask to adjust volume and start or stop music.
The MaskFone is IPX5-rated for water-resistance, meaning it can withstand moderate sprays. It uses magnets to hold the earbuds in place when you remove them from your ears and has a cable clip to prevent tangles. The mask itself is washable and made of a breathable, soft twill fabric that conforms to the contours of your face for a tight, comfortable fit; it's also designed to accommodate glasses and reduce lens fogging. Battery life is rated for up to 12 hours of play time. Visit maskfone.com for more information.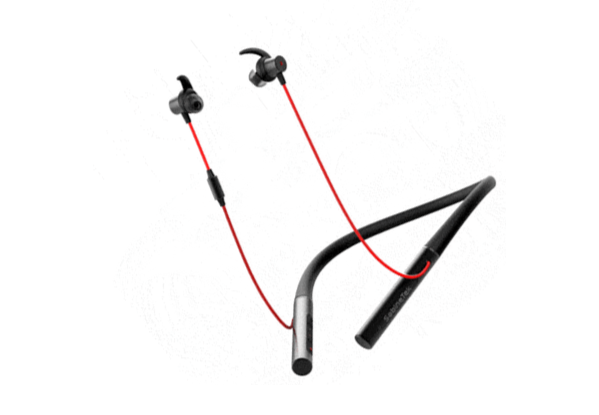 FinaLace Earbuds Double as a Wearable Recording Studio
SabineTek, a Hong Kong-based company specializing in wireless audio recording solutions for content creators, used CES 2021 to umveil FinaLace, the "world's first" Bluetooth earphones with built-in 3D binaural audio recording. The system uses a microphone embedded in each bud to capture sound "as it is perceived in real life" and relies on a proprietary app to enable real-time mixing and monitoring of any audio source. The result is a "powerful yet portable studio-quality tool to record podcasts, music, videos, and calls anywhere, anytime."
The app is loaded with useful features such as automatic voice transcription, subtitle generation, and high-fidelity music video creation and provides a variety of digital audio effects, including noise reduction, reverb, and vocal removal (for karaoke applications). "FinaLace puts the power of a professional recording studio around the neck, giving users pro-grade recording as well as high fidelity playback at the same time," the company explained in its press release.
SabineTek is funding FinaLace through a Kickstarter campaign with a pledged goal of $6,450 goal and, with 20 days to go, had already raised more than $72,000 from 648 backers. Delivery is slated for May, according to the timeline on Kickstarter. As of this writing, FinaLace was being offered for the Kickstarter special price of $99, a 55% discount. Visit kickstarter.com for more information. For more on SabineTek, visit sabinetek.com.