Monster Takes Over 2018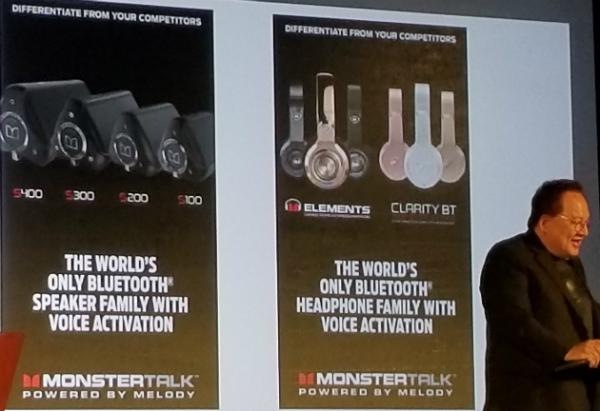 CES 2018 kicked off this morning with the always entertaining, always optimistic Monster Press Conference hosted by head Monster Noel Lee, who launched the company's 39th year in the industry with the motto "Takeover 2018." Along with an array of new speakers and headphones, Monster announced a variety of new products that will capitalize on the popularity of smart speakers and headphones with MonsterTalk, powered by Speak Music's Melody voice service.
The headphone lineup with MonsterTalk features an industry-first four-button remote that lets users access the Melody service with one touch, even without Wi-Fi. In addition to accessing iHeart Radio and Spotify Premium, Melody allows access to Tidal HiFi.
  "We chose to align with Speak Music and the Melody Voice Control platform since it most closely fits with the way our customers consume music," said James Peterson, head of Monster's new product development. "Monster's products are all about the music, especially when people are on the go- in the subway, at the beach, or working out at the gym. MonsterTalk powered by Melody is the most powerful and easiest way for consumers to access music across many of the major streaming platforms versus being limited to one or two.  We are not tied down to a Wi-Fi connection because we use cellular data.  We can even access your local iTunes library on your mobile device, all with voice commands."
Monster also announced the new SuperStar lineup of boomboxes.  The S400 ($200) and the S300 ($170) feature 4 drivers, and the S200 ($120) and the S100 ($60) are smaller shock-proof, waterproof (iPX7-rated) speakers that can float and work in water.  All of the new SuperStar speakers feature MonsterTalk.
Other news from Monster includes a collaboration with Joe Perry for a Classic Rock edition of the Monster Blaster line of boomboxes.  Another partnership is with Tile in the Clarity Headphone category, so users can keep track of their headphones with the popular Tile app.
Monster is also expanding with new partnerships Iggy Azalea, including a new Superbowl commercial featuring her and Noel Lee, emphasizing the fashionable side of Monster products aimed at the female market.
Later in the show there will be an announcement with a new automotive collaboration, and the company is expanding their pro-sound reach with a new stadium sound system installation. With so many new products, taking over in 2018 is not a stretch.