Mitsubishi WS-73909 Page 2
Fast Facts
KEY FEATURES - Widescreen display with multiple aspect ratio settings - Built-in HDTV tuner with 1080i-format output - TV line-doubles standard 480i signals with optional 2:3 pulldown - NetCommand system for FireWire and IR-controlled components lets everything be operated through the TV - D-VHS VCR records high-definition digital TV as well as analog signals in S-VHS or VHS format TV INPUTS/OUTPUTS Front Panel: Composite/S-video and stereo audio inputs Rear Panel: Three FireWire ports; RGB+H/V, wideband component-video, two 480i/480p component-video, VGA, four S-video, and four composite-video inputs, all with stereo audio; two RF antenna inputs; DTV antenna input; composite/S-video, coaxial digital audio, fixed/variable-level stereo audio, and PIP audio outputs; RF antenna output; four IR repeater outputs (two standard, two NetCommand-enabled) VCR INPUTS/OUTPUTS front panel composite/S-video and stereo audio inputs rear panel two FireWire ports; one composite/S-video input and two composite/S-video outputs, all with stereo audio; two antenna inputs, one output DIMENSIONS: (WxHxD) TV, 65 1/4 x 65 3/4 x 30 inches; VCR, 163/4 x 3 1/2 x 12 inches WEIGHT: TV, 410 pounds; VCR, 10 pounds PRICES: TV, $10,499; VCR, $1,499 MANUFACTURER: Mitsubishi Digital Electronics America, Dept. S&V, 9351 Jeronimo Rd., Irvine, CA 92618; www.mitsubishi-tv.com; 800-332-2119
Mistubishi also sent us its new HS-HD200U digital VCR ($1,499) so we could give the NetCommand system a thorough workout. The deck, which connects to the TV via a FireWire port, can record high-definition digital TV programs in D-VHS format as well as analog programs in S-VHS or VHS format.
The monolithic WS-73909 is encased in a black gloss cabinet that features a front A/V convenience input for quick camcorder or game-console hookups (though no front FireWire port for a digital cam). There's also a set of front-panel controls for selecting channels, adjusting volume, and navigating menus, plus a tiny button that reboots the NetCommand system software if the TV freezes up - as happened during my initial setup. Pressing this button may also erase your picture settings, so proceed with caution.
The WS-73909 offers a variety of modes for displaying both conventional 4:3 aspect ratio and widescreen programs. The Standard mode is for HDTV and anamorphic widescreen DVDs, while Narrow is for 4:3 programs, which are centered on the screen and flanked by gray vertical bars. Either mode can be activated with standard 480i (interlaced) and 480p (progressive) signals. There's also a zoom mode and two stretch modes for expanding 4:3 images to fill the screen.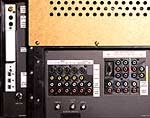 The TV set's crowded back panel is stocked with every imaginable type of connection, including a DTV input, three FireWire ports, two NetCommand-enabled IR repeater outputs, and a coaxial digital audio output for Dolby Digital signals from HDTV broadcasts.
The remote control, which fit comfortably in my hand, includes a number of backlit buttons. Courtesy of NetCommand, pressing the Device button calls up a list of all your connected components, any of which you can select and operate by simply aiming the remote at the TV. A handy reference sheet tells which buttons control the various functions of your DVD player, VCR, or satellite receiver.
At first, I was intimidated by the prospect of setting up NetCommand to control my entire A/V rig. The procedure merits nine full pages in the TV's manual, plus a separate sub-manual and a large foldout poster that maps out six possible system configurations - yikes! To begin my NetCommand odyssey, I made video connections directly to the TV and audio connections to my Denon receiver. Next, I ran IR repeater cables from the TV to the receiver, a Panasonic DVD player, and a Dish Network satellite receiver/HDTV tuner.
---
LATEST VIDEO