Mitsubishi WL-82913 82-inch LCoS Rear-Projection HDTV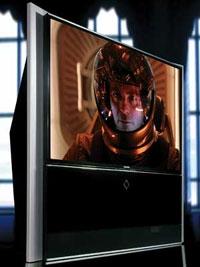 Photos by Tony Cordoza
My uncle is an architect who works in Orange County, California, and I've always loved visiting the palatial homes he helps design while they're still under construction. Many of these upscale residences have dedicated home theaters built around front-projection TV systems, with plenty of space for rows of theater-style seats and the requisite antique popcorn machine. I like to guess how large the screens will be and imagine the future occupants and their lucky guests relaxing in front of 80- or 100-inch images. I've never pictured these wealthy home theater-goers gathered around anything so common as a rear-projection TV (RPTV), but then again, I'd never seen anything like the Mitsubishi WL-82913.
The manual puts it plainly enough: "The WL-82913 is currently the largest self-contained rear-projection TV available." Standing 6 feet high and measuring almost 7 feet wide, it dwarfs other RPTVs, and its 82-inch (diagonal) screen is large enough to rival those of some front-projection systems. But one advantage it has over front projectors is that it doesn't need a dark room to create bright images.
The set ships in two separate boxes and comes with a series of Ikea-like instructions for assembly - a project best left to your Mitsubishi dealer. That's a good thing, too. Since the WL-82913 costs a cool 21 grand, anyone who buys it has probably never shopped at Ikea.
FAST FACTS
KEY FEATURES • 82-inch (diagonal) 16:9 screen • 1080p LCoS display engine • Integrated HDTV tuner • NetCommand home networking control
INPUTS/OUTPUTS front inputs FireWire; composite/S-video with stereo audio; four flash-memory card slots rear inputs two FireWire; DVI/HDCP, VGA, three wideband component video (one also RGB+H/V), two composite/S-video, all with stereo audio; digital antenna/cable; two analog antenna/cable; speaker-level center-channel audio; RS-232C serial port rear outputs composite/S-video with stereo audio; coaxial digital and stereo analog audio
DIMENSIONS 83 1/4 inches wide, 73 3/4 inches high, 29 3/8 inches deep
WEIGHT 515 pounds
PRICE $21,000
MANUFACTURER Mitsubishi Digital Electronics America, Dept. S&V, 9351 Jeronimo Rd., Irvine, CA 92618; www.mitsubishi-tv.com; 800-332-2119
There's no denying Mitsubishi gives you a lot of TV for that kind of scratch. Behind the massive screen sits the most comprehensive collection of cutting-edge TV technology I've seen in one package. First on the list is the three-panel LCoS (liquid crystal on silicon) light engine, which takes the place of the familiar red, green, and blue tubes found inside most RPTVs. An LCoS projector can provide high resolution, with very close spacing between pixels to counter the "screen-door" grid effect visible on some LCD-based projection systems. The light engine in the WL-82913 has 1,920 x 1,080 pixels per panel and can therefore deliver every pixel in 1080i (interlaced) high-definition programs.
In addition, the set includes the NetCommand operating system for controlling a rack's worth of A/V gear through a single onscreen interface. There's also a built-in HDTV tuner compatible with both over-the-air broadcast and cable signals, a dual-view picture-in-picture (PIP) feature that handles standard, high-def, and computer images, four multimedia card slots, and more jacks than a $100 table in Vegas.
Like a big girl trying to streamline her figure, the Mitsubishi dresses completely in black. The high-gloss finish gives it a distinguished look despite its bulk, but the cabinet does tend to reflect room lighting. The only accents are the big diamond logo and a thin silver belt below the screen that camouflages a full set of critical buttons.
I really appreciated the simple remote control, especially considering the set's multitude of features. Large but not too large, it fit nicely in my hand, with plenty of space between the buttons. Green backlighting, activated by a side button, illuminates every key. A dedicated Device button let me quickly select between different inputs, and a switch on the top of the remote can be set to one of four other components it can control directly.
Users who've taken the time to set up the NetCommand system won't need to use that switch at all. You get eight infrared (IR) blasters, enough to operate the components in just about any A/V system. A detailed setup process allows plenty of customization. It's even easier to operate digital devices connected to any of the set's three FireWire ports, thanks to the AVC (Audio/Video Control) plug-and-play protocol built into the FireWire standard. It controlled my JVC D-VHS deck with no problems.
Besides those FireWire ports, the set has every relevant connection available today. Its VGA jack can handle computer resolutions up to 1,920 x 1,080, and one of its three wideband component-video connections can handle RGB+H/V signals as well. Four front-panel card slots accept the CompactFlash, SmartMedia, SD/MultiMediaCard, and Memory Stick formats, allowing easy access to JPEG photos and even MP3 and Windows Media Audio (WMA) music files. An RF (radio-frequency) jack labeled DTV can be connected to an antenna or cable feed. When connected directly to cable, the QAM-compatible tuner automatically picked up all unscrambled high-def channels on Time Warner's Manhattan cable system, and it also found all my local digital broadcasters.
The huge screen affords a great opportunity to view two images side by side. The TV can put the image from just about any of its inputs - including VGA, DVI (Digital Visual Interface), FireWire, and component-video - in one of the two windows, although you can't watch two high-def sources at once. Memory-card sources also won't work with the split screen. Standard PIP is supported with most sources, including HDTV, and you can move the smaller window or change its size.