Media Receivers Page 3
Extending a Media Center PC
Originally pitched as an all-in-one remote-controlled entertainment computer with TiVo-like TV recording capabilities for anyone who doesn't have room for a big TV, the Microsoft Windows XP Media Center Edition PCs are about to escape their studio-apartment and dorm-room origins. At this year's Consumer Electronics Show, Microsoft chairman Bill Gates demonstrated a receiver that lets you see and hear all the recorded TV shows, home videos, photos, and music you've stored on a Media Center Edition PC on a TV in another room.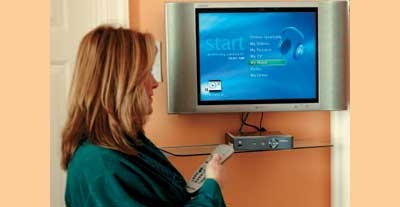 This fall Gateway and Hewlett-Packard will be the first to sell what Microsoft is calling Media Center Extenders (prototype shown under the TV at left). Unlike most media receivers, the Extenders use the same interface and remote control as the Media Center Edition PCs, and they're guaranteed to work with Microsoft's favorite formats - like DVR-MS, which is used to record TV programs on Media Center PCs, and Windows Media Audio (WMA).
On the other hand, Media Center Extenders do little to expand the use of content you can't already share on a network, and computers in other rooms can already access media in shared folders. Of course, any media receiver that's compatible with the music, image, and video formats stored on your Windows Media Center PC can be used instead of a Media Center Extender. So far, we know of only two, both hybrid DVD player/media receivers that play WMA and DVR-MS files, among other formats - the Gateway ADC-320 (photo on first page) and the Apex Digital AD-8000N.
- M.A