Media Preview: Hanging Speakers, TV Soundbars and More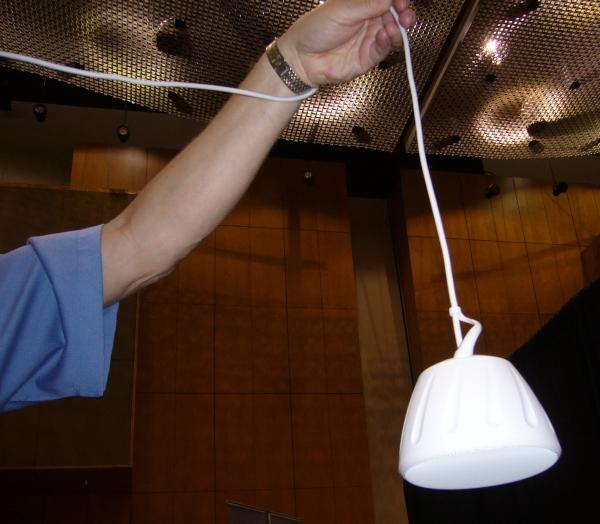 At the CEDIA Media Preview, for 90 feverish minutes, several dozen exhibitors showed their wares to media personnel walking through a single large room. Here are some audio highlights relating to speakers:
Phase Technology showed the HS Series of hanging speakers starting at $100/each. Five models feature coaxial arrays with woofers of 3, 4, 6.5, and 8 inches. Most have polypropylene woofers and PT's signature soft dome tweeters but the larger of the two eight-inch models has a 1.4-inch titanium compression driver for long-throw uses.
KEF offered a few preliminary details on the press conference scheduled for tomorrow. The event will feature the LS-50 50th anniversary speaker, which promises to trigger memories of the classic LS35A BBC monitor; and the X300 powered bookshelf, which will have USB-in and an all-digital signal chain. In danger of being overlooked are 14 Ci in-wall speaker models including nine squares and five rectangles. The high-end stars are the Q Series featuring KEF's Uni-Q coaxial array which offer the best off-axis response. However, there are also some step-down coaxial models that use a baffle island to push the tweeter forward of the woofer's center.
Boston Acoustics showed its fourth-generation TVee 10 soundbar with Dolby Digital decoding. The one optical and two analog inputs remember the last sound mode selected (movie or music). This $100 product is the solution for the buyer of a $500 TV who doesn't want to spend more on the soundbar than on the TV itself.
GoldenEar Technology's SuperCinema 3D Array soundbar first surfaced at CES and will ship in October for $999. The three-channel passive soundbar has that cool ribbon tweeter (times three) and uses interaural cancellation to defeat crosstalk. The new Aon 2 would make a good surround companion.
AudioXperts wowed the press with its luxury smoked-glass and aluminum soundbars at their August introduction in New York. They include the 5122 with 12-inch sub for $3999 and the 2112 with built-in sub drivers for $1999. Connectivity includes USB, Bluetooth, and a patent-pending AirPlay option. Also included are Dolby Digital and DTS decoding, SRS TruVolume volume leveling control, loads of power, and more than we can do justice to here. New for CEDIA are the Korners Speaker, an LCR, and the Korners eight-inch sub, which are designed to fit anyplace where the wall meets the ceiling.
Monster's ClarityHD speaker, with its unique triangular footprint and red high-gloss finish, remains a head turner at $750/pair. Now it can work with a StreamCast transmitter/receiver kit ($190) which can send four uncompressed streams to 12 rooms at a distance of up to 100 feet. The ClarityHD Micro ($220) is one of the smallest Bluetooth speakers we've seen, just six inches wide, perfect for briefcase, handbag, or carry-on.