March 2018 New Gear Part 2
Klipsch Reference Premiere Designer On-Wall Speaker Series
Klipsch has the perfect solution for enthusiasts who want big sound but don't have room for freestanding speakers. The latest iteration of its flagship Reference Premiere series trades bulky enclosures for slim, wall-mountable cabinets with wraparound magnetic grilles.
Same Only Different:
The series comprises four models that use different combinations of the same 3.5-inch Cerametallic woofers and Tractrix horn-loaded 1-inch titanium tweeters used in their freestanding counterparts. Three are column-style speakers that can be used for left-, center-, right-, or surround-channel duties: the 12-inch RP-140D ($199), 16-inch RP-240D ($299), and 28.5-inch RP-640D ($499). Rounding out the line is the RP-440D SB soundbar ($699), a three-channel passive system. All are finished in matte black and have dual keyholes for wall mounting; a detachable glass base is also included for placement on a table or bookshelf.
Klipsch • (888) 250-8561 • klipsch.com
Damson S-Series Wireless Dolby Atmos Home Cinema System
If you love the idea of watching movies with state-of-the-art, "object-based" surround sound that puts you in the middle of the action but cringe at the thought of assembling the gear needed to make that happen, Damson's S-Series system might be your ticket to paradise. The super compact setup provides a simple path to Dolby Atmos using a 9.5-inch-wide S-Bar with a detachable up-firing S-Atmos speaker, a décor-friendly subwoofer that's only 3 inches thick, and two tiny S-Cube surrounds that double as multiroom speakers.
Hassle-Free: You don't have to mess with cables thanks to Damson's JetStreamNet wireless network, and the S-Cubes are battery powered for true wire- less functionality with a range of 150 feet. The system packs 130 watts of power and supports several Dolby surround formats with passthrough for Dolby Vision and HDR10 high dynamic range content. Price: $800
Damson • damsonglobal.com
SVS Sound 4000 Series Subwoofers
The subwoofer mavens at SVS have put the principles of trickle-down technology into play with the new 4000 Series, which borrows technology from the flagship 16-Ultra Series and packages it in smaller enclosures that sell for less. The result? Higher output and deeper bass extension than the 13-Ultra Series models they replace.
Pick a Sub: Three models are offered, each featuring a proprietary 13.5-inch driver: the SB-4000, a sealed cube rated down to 19 hertz ($1,500 in black ash, $1,600 in gloss black); the PB-4000, a larger ported cube that rumbles down to 13 Hz ($1,900, $2,000); and the PC-4000, a 47-inch-tall cylindrical design rated down to 15 Hz ($1,800, stay tuned for our upcoming review). The SB and PB models include a steel mesh grille. Bonus: The DSP amplifier in each model can be adjusted via the supplied remote or iOS/Android app.
SVS Sound • (877) 626-5623 • svsound.com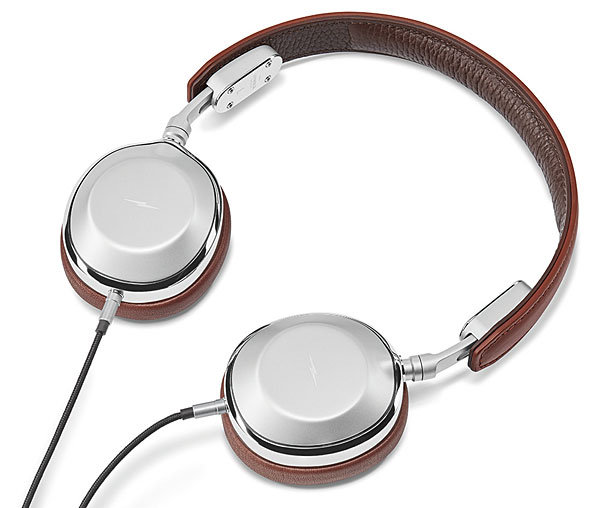 Shinola Canfield On-Ear Headphones
The Canfield On-Ear headphones are beautifully handcrafted by a Detroit-based industrial design and manufacturing company named after the long defunct Shinola shoe-polish company that flourished in the early part of the 20th century. The modern-day Shinola prides itself on designing and building products in the Motor City, among them stylish, precision watches, leather products, bicycles, and a handful of audio products.
Precision-Built: Two years in the making, the headphones are crafted with "the same high-quality materials, finishes, and processes" the company uses to make its watches, including stainless-steel components. The Canfields feature custom 1.6-inch dynamic drivers, interchangeable lambskin-encased memory-foam earpads, a cushioned top-grain leather headband, and an in-line microphone. Nominal impedance is rated at 32 ohms. Three finish options are available: silver earcups with black or brown ear cushions for $495 or all black for $550.
Shinola • (844) 744-6652 • shinola.com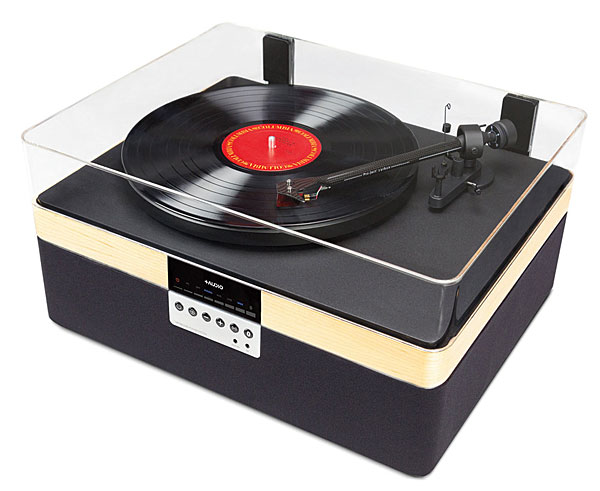 +Audio The+Record Player
The Boston-based design team behind +Audio has brought street cred to the lowly record player by combining a custom- built Pro-Ject turntable with a 100-watt biamplified speaker system featuring a pair of high-excursion 3.5-inch woofers and two 1-inch soft-dome tweeters in a compact cabinet.
Well Appointed: The +Record Player has a wide listening mode to "make you feel like you're listening to separate speakers" and supports Bluetooth streaming. It also offers a full complement of connections, including an optical digital input, USB port, analog line input/output, headphone output, and 5-volt output to accommodate streaming devices such as Amazon's Echo Dot or Google's Chromecast Audio. The standard model, featuring an aluminum tonearm and Ortofon OM10 phono cartridge, costs $999, or you can upgrade to the limited-edition Carbon ($1,199), which is fitted with a carbon-fiber tonearm and Ortofon 2M Red phono cartridge.
+Audio USA • (877) 331-5380 • plusaudio.com