March 2018 New Gear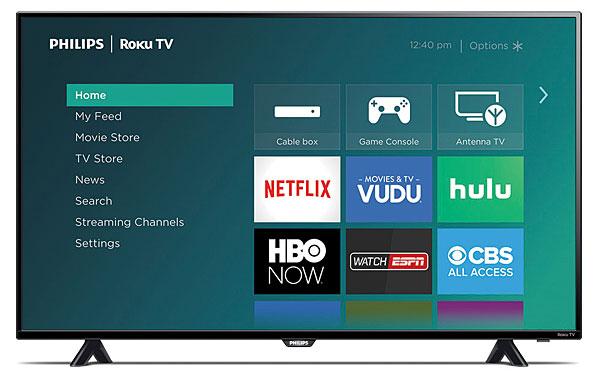 Philips 50PFL4662/F7 50-Inch Roku TV
Roku has been busy adding streaming smarts to televisions from a number of brands, including this 50-inch set from Philips, the top model in the 4000 series of 1080p LCD TVs. Hit the power, and you're greeted by the Roku home screen, which serves as a gateway to, oh, a half-million or so movies and TV shows across 5,000 streaming channels, including the biggies Netflix, Amazon Video, Hulu, etc.
Search Master:
A key feature of Roku's new OS 8 operating system is SmartGuide, which conveniently lists cable and over-the-air (OTA) broadcast channels alongside streaming channels. For local OTA channels (antenna required), the guide goes back seven days and ahead 14 days; it even indicates if a movie or show is available on demand from one or more streaming services. Nice. Price: $429
Philips • (866) 309-5962 • usa.philips.com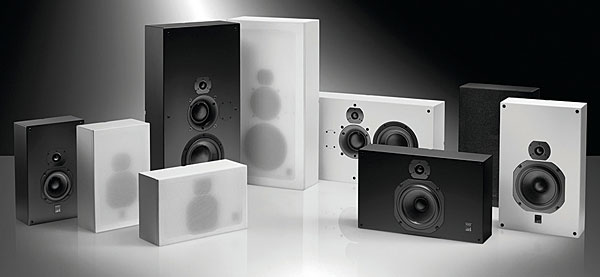 ATC Loudspeakers HTS Series On-Wall Speakers
U.K.-based ATC has applied its 40-plus years of experience in pro sound design to its Home Theatre Series of on-wall speakers, featuring proprietary drivers and custom crossovers mounted in shallow cabinets with recessed input terminals, "hidden" keyhole mounting plates, and foam pads—one per corner—that prevent vibration and protect the walls.
Three's a Charm: The series comprises three models: the 15-inch (tall or wide) HTS7 two-way ($899), the 19-inch HTS11 two-way ($1,249), and the 29-inch HTS40 three-way ($3,499)—all featuring ATC's new dual-suspension tweeters and available with mounting keyholes oriented vertically or horizontally. Traits ascribed to the speakers—which "sound very similar regardless of size"—include high dynamic range, natural voicing, low distortion, and wide dispersion. Available in a white or black satin finish with matching grilles.
ATC Loudspeakers (distributed by Lone Mountain Audio) • (702) 307-2727 • atcloudspeakers.co.uk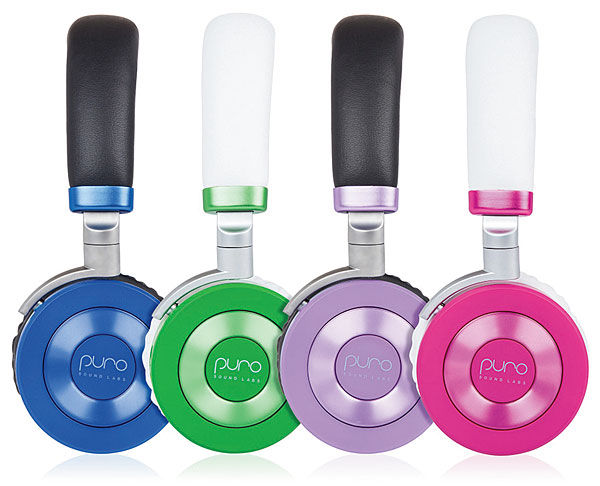 Puro Sound Labs JuniorJams Wireless Headphones
Everyone knows that listening to loud music over headphones can cause permanent hearing loss, right? But what about kids? Ask Dave Russell. He founded Puro Sound Labs with the mission of "fighting the growing epidemic of noise-induced hearing loss" after learning that his young daughter had damaged her hearing wearing headphones. Determined to help prevent this from happening to other children, Russell developed a line of volume-limited "kid-safe" headphones. The new JuniorJams transmit sound wirelessly over Bluetooth 4.2 (with aptX coding!) and boast 1.5-inch custom drivers, an aluminum frame that folds flat for easy storage (case provided), and a rated battery life of 22 hours (200 standby).
Turn It Down: Patent-pending technology limits volume to 85 decibels, even if the headphones are operating in wired mode with the supplied cable. Available in blue, green, purple, or pink. Price: $80
Puro Sound Labs • (888) 590-7876 • purosound.com
Pioneer SX-10AE Stereo Receiver
It's back to basics with Pioneer's refreshingly simple SX-10AE, featuring a discrete stereo amplifier rated to deliver 45 watts per channel into 8 ohms (with 0.1 per- cent total harmonic distortion), bass and treble controls, an A/B speaker selector, remote control, and something that tends to be overlooked in today's digital world: an AM/FM tuner with 40 quick-access presets and station naming.
Retro with a Twist: As retro as it may seem, the receiver supports wireless streaming via Bluetooth-enabled devices while skipping a feature many old-schoolers will miss: a phono input. Otherwise, connections are limited to four analog inputs, a line output, a sub pre-out for connection to a powered subwoofer, and a front-panel headphone jack. Price: $249
Pioneer • (844) 679-5350 • pioneerelectronics.com
Emotiva Airmotiv E2 Bipole/Dipole Surround Speaker
If you've ever wished you could experiment with different types of surround speakers without having to physically move different speakers in and out of position, your prayers have been answered—and very cleverly, we might add—by the audio gurus at Emotiva.
Flip the Switch: You can configure the Airmotiv E2 surround speaker as a forward- or rear-oriented dipole or a direct-radiating bipole. All you have to do is flip one (or both) of the small switches on its rear panel. Each switch inverts the phase of one of the speaker's 1.25-inch folded ribbon tweeters relative to the 5.25-inch woofer. The E2 is finished in satin black lacquer with an easy-to-remove magnetic grille and includes a heavy-duty steel bracket for wall mounting. Price: $459/pair
Emotiva • (877) 366-8324 • emotiva.com