Luxman Unveils Cutting-Edge Disc/Streaming Player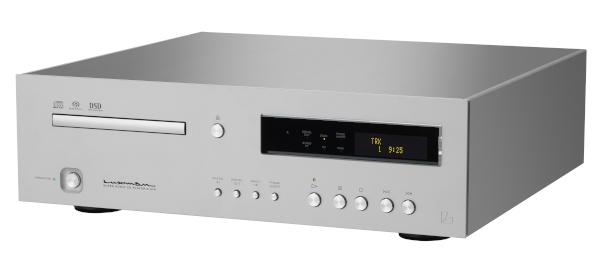 Luxman, one of the oldest consumer electronics brands in existence, has introduced a "transformational" digital player that spins CDs and SACDs while facilitating high-resolution streaming.
A replacement for the D-06u, the new D-07X doesn't come cheap at $9,995 but covers the format bases with support for Master Quality Authenticated (MQA) files, 32-bit/768 kHz PCM, 22.4 MHz DSD, and conventional USB sources in addition to playing MQA-CDs, standard CDs, and Super Audio CDs (SACDs). Full MQA decoding is provided and files up to 24-bit are supported via USB, optical, and coaxial inputs.
The player uses the same disc transport and digital-to-analog converter (DAC) found in the company's $17,000 flagship D-10X. Dubbed LxDTM-i and made in Japan, the transport has a die-cast aluminum tray and is reinforced with steel top and side plate to help isolate disc playback from vibration and resonance, which can cause subtle distortion. Luxman says the drive also features an improved disc reading mechanism and a short signal-path design to keep audio transmission as pure as possible.
To further optimize sound quality, the player uses 32-bit MUS-IC BD34301EKV DACs sourced from Japan's ROHM Semiconductor. Luxman has paid careful attention to 28 parameters — ranging from circuit design and layout to the use of copper and gold "bonding wires" — to achieve optimal sound quality. Arranged in a dual-mono configuration, the DACs are said to achieve an impressive –130 dB signal-to-noise-ratio, which is attributed to their delta-sigma architecture.
The DAC feeds into a sophisticated analog output circuit in which a new current-to-voltage conversion system receives differential outputs from paired MUS-IC chips and feeds four "perfectly matched" discrete amplifier modules. High-quality buffer circuitry is said to minimize output impedance to accommodate connection to any integrated amplifier or control amplifier. In another technical refinement, the D-07X incorporates the low-pass filter into the buffer stage to achieve "uncommonly smooth analog waveforms, greater clarity and greater sonic immediacy."
The player's master clock incorporates two low-jitter, ultra-low phase noise modules in an effort to keep noise near the oscillation frequency to a minimum.
File Mastery and Refined Tech
The D-07X is designed to play a wide variety of file formats via its USB inputs and the Luxman Audio Player Mac/Windows-compatible computer software provided free with the unit. The software decodes WAV, FLAC, MP3, DSF, DSDIFF, ALAC and AIFF files and the USB input accepts PCM signals at up to 768 kHz sampling with up to 32-bit quantizing and DSD signals at up to 22.4 MHz/1-bit sampling. Coaxial and optical inputs accommodate PCM audio up to 192 kHz/24 bits.
In addition to conventional, "isochronous" file transfers at fixed bitrates, the USB input supports two modes of Bulk Pure Enhanced Technology (Bulk Pet) high-resolution file transfer, which is said to optimize data packaging and delivery to the converter, while easing the processing load for both the host CPU and device CPU, which in turn enhances playback stability for improved sound quality.
Other technical highlights include an oversized power supply featuring an OI-core transformer that's 50% larger than the one used in the D-07X's predecessor, a shielded chassis to protect against electromagnetic interference, printed circuit boards that have been refined to improve signal flow, and a vibration/resonance-resistant chassis with damping on the inside and outside, the latter via cast-iron insulator feet.
The super clean brushed aluminum front panel boasts a Phase Invert button and a fluorescent display with four zoom settings; around back you'll find gold-plated-brass RCA output jacks and Neutrik terminals for the player's balanced XLR outputs. Luxman provides a brushed aluminum remote control that matches the D-07X's faceplate.
Founded in 1925 as the Lux Corporation, Luxman dates back to the dawn of radio broadcasting and has long been a prominent player on the Japanese audio scene, known for its meticulous engineering and robust build quality. Today the company is based in Yokohama. For more information on the D-07X, visit luxmanamerica.com.