Live Review: Bruce Springsteen Reaches Higher Ground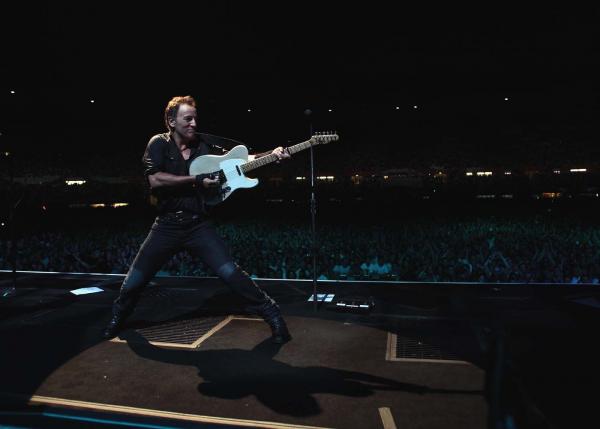 "Church."
That was how a musician friend responded shortly after I told him via iPhone chatter that it was 10 minutes before Bruce Springsteen & the E Street Band hit the stage last night in the first of two dates at the Izod Center in East Rutherford, New Jersey.
His one-word anointment is spot-on. Seeing Bruce in his (and, technically, my) home state of New Jersey is a religious experience. (I've testified at the temple of Bruce at least 15 times in the Garden State alone.) We were the congregation, and Bruce preached mightily. We were saved, cleansed, and renewed. The 2-hour, 47-minute set hit all the right emotional touchstones, in a veritable clinic on how to bring an audience along on a journey that, in the Boss's own words, was designed to make your heart, voice, and feet sore — but all in good, and quite exhilarating, ways.
From my lower-tier, stage-left sidestage perch, the audio mix was consistently crisp. I was especially impressed by the clarity and resonance of Max Weinberg's cymbal crashes throughout "Dancing in the Dark," Bruce's distorted vocal effects at the outset of the Wrecking Ball track "Easy Money" (a song made complete with its own drum corps stationed on the backline behind Weinberg's raised perch), the blended harmonies in the a capella opening to the soulful cover of "The Way You Do the Things You Do," and Nils Lofgren's razor-edged guitar solo on "Because the Night." But I did have trouble discerning the individual voices when most of the E Streeters stepped to their respective mikes during the lyric trade-off sequence in "Land of Hope and Dreams."
When Bruce wandered out into the crowd during "634-5789," it was like watching iron filings being drawn to a magnet. A sea of hands waved toward whichever way he leaned and twisted after clambering onto a perch in the middle of the general-admission floor. Ever the crowd-pleaser, the Boss paused strategically to guzzle a patron-offered beer.
The night's most powerful sequence came during "Tenth Avenue Freeze-Out" in the rapid-fire 45-minute encore. Bruce and the band stopped cold after he sang the pivotal line, "and the Big Man joined the band." He raised his hands and his mike to the rafters, and we the people cheered and testified for the late Clarence Clemons for a good 2 minutes nonstop. It was a cathartic moment for everyone in the building, and the band seemed genuinely touched by the raucous outpouring of emotion. And lo, one and all healed together.
"The E Street Band, and then some!" exulted Bruce with his arms around his bandmates at the end of the main set. Few performers reach as far or deliver as much as the Boss can, and does, night after night. Congregate accordingly and spread the good word.