Light to the Top
"From the bottom of our hearts, thank you everyone. I can't wait to answer the 'Is rock and roll dead' question now..." So tweeted @foofighters at midday, and with good reason - the band's hard-charging, all-analog new album Wasting Light debuts at #1 this week with 235,000 copies sold here in the States. And it tops the sales charts in 12 countries overall.
We, of course, are not surprised.
I sat down with the Foo Fighters at their homebase, Studio 606 in Northridge, California back in March, and it was already apparent that Wasting Light was gonna make an instant impact and have a lotta legs. (It's one helluva album to drive around SoCal listening to, lemme tell you…)
While I continue to work on my in-depth Foo feature for the next print issue of S+V, here are a few exclusive quotes from my chat sessions with the gang - and a behind-the-scenes pic from our also-exclusive photo shoot! - that I thought y'all might enjoy in the meantime to celebrate their first U.S. chart-topper. Rock on!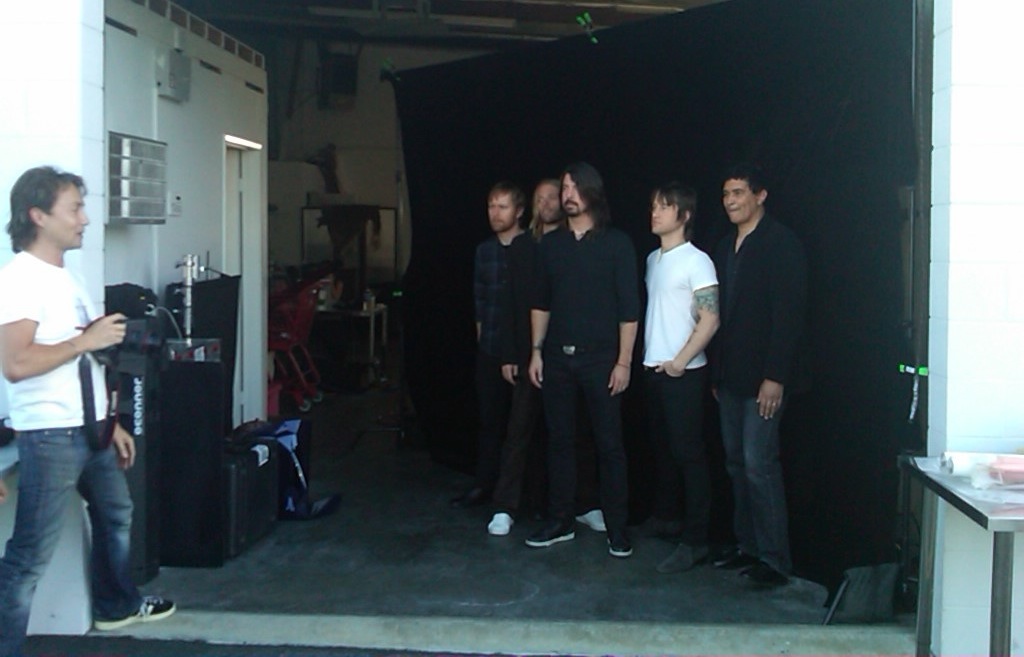 DAVE GROHL (guitarist/vocalist)
The analog recording concept was simple to me. That's the way it should be done. The simple signal path of a microphone into an EQ and then into a tape machine - you don't have to scroll through Pro Tools menus. You're restricted to actual performance, which is good. It makes you sound like an actual human being. It's f***ing awesome.
BUTCH VIG (producer)
Dave said to me, "I want it entirely on tape. No Pro Tools at all." After thinking about it, I said, "Well, you guys have to play pretty good. You can't fix anything. There are no multiple playlists, no Autotune, none of that." And the band was psyched about it. I think they really felt like they wanted a challenge. It's easy to fall into patterns and use Pro Tools - I love it, but it makes it easy.
CHRIS SHIFLETT (guitarist)
Because we were recording at Dave's house, there wasn't a lot of space there for us to all play together. We demo that way here [at Studio 606], and we did a lot of preproduction downstairs. Those live demos are often my favorite versions of our songs. They usually feel more like us. But not for this record. It sounds more organic. Man, I wish we sounded that good every time we play!
PAT SMEAR (guitarist)
I was open to anything. But one thing we did commit to - whatever we did, we didn't change it. If a distorted vocal went through a pedal, that's what it was going to be.
LATEST VIDEO