LG Bows 5 OLED TV Series, New Super Thin Models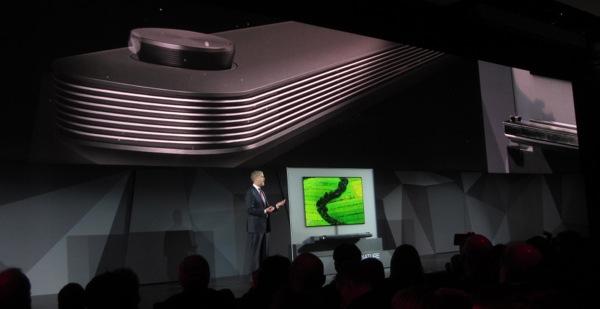 By the luck of the draw the first press event of CES 2017 in the consumer audio/video field was held by LG, first thing on Wednesday morning. And if any manufacturer deserves a gold star for the depth and breadth of its product line, it's LG.
The company announced a huge range of new products, including home and business robots. The home versions include a help unit that connects to your home network in the mode of Amazon's Alexa and robot vacuums. The business versions top out with an airport bot to help travelers find their way. There were also the usual appliances, including a refrigerator that caters to your every foodie whim. Oddly, new cell phones and tablets, once featured items at every CES, are now so ubiquitous that they weren't even mentioned.
But it's video news that helps us endure these circus-like press events, and LG saved the best for last. There are five new ranges of OLEDs in a range of sizes: the G7, E7, C7, B7 (from the priciest to the more affordable), and the new W7 LG Signature range, available in 65- and 77-inch sizes. Internally LG is said to refer to the latter as just W or wallpaper, a reflection of its impossibly slim design. While we're not yet at the state of an OLED display as thin as actual wallpaper, the W7s come close. In the 65-inch size it's roughly 2.5 mm thick (about a tenth of an inch) and weighs 16 (!) pounds (the 77-incher is 28 pounds). When mounted on the wall (and that's your only option, there is no stand provide or available) it clears the wall by a mere 4mm. The set is mounted via a unique. You first mount a thin magnetic sheet in the wall, then simply place the ultra-light panel on it.
All of the new OLEDs promise higher brightness than last year's models—about 25%—and all offer Ultra HD with high dynamic range (HDR). HDR10 and Dolby Vision compatibility come standard. Two other HDR formats, HLG (Hybrid Log Gamma) and Advanced HDT by Technicolor (both of which are possible candidates for broadcast HDR) can be added later through firmware. LG also calls the HDR in its premium sets "Active HDR," as it's designed to add metadata scene by scene even if the source has static metadata or none at all. I'm skeptical of how well such an automated active process can reflect the intent of the content provider, but we'll see how it works when we get a review sample of one of the new sets when they become available.
All of the OLED sets also offer a form of Dolby Atmos from their internal speakers. In most of the models this appears to be done by processing, rather than true reproduction of the original material. But the flagship W7s have a matching sound bar that includes not only much of the set's electronics (there's no way to squeeze them into a set 2.5 mm thick!) but also includes a self-contained Atmos 2.0.2 system (front L/R, no sub, no surrounds, no discrete center, and two upward firing Atmos speakers—shown greatly enlarged at the top of the above photo).
The 65-inch W7 will ship in March, with the other new OLEDs coming on line in the spring. No prices for any of the LG 2017 OLEDs were announced.
There's more to LG's new lineup than just OLEDs; a flood of new LG LCD/LED UHD sets are also scheduled to reach stores soon. LG refers to the top three ranges, the SJ9500, SJ8500, and SJ8000, as Super UHDTVs. They range in size from 55- to 85-inches, and all incorporate a new, proprietary technology that the LG refers to as Nano Cell. It's a thin film that is said to optimally filter the sets' white LED lighting to provide improved color and reach 90% of the DCI (P3) color space. They're all HD-capable with HDR10 and Dolby vision, along with the firmware upgradability to HLG and Technicolor HDR all with Active HDR as discussed above. Their IPS LCD panels also offer much better than average off-axis viewing, and they all employ edge-lighting, not full-array backlit local dimming.
LG also offers lower end LCD sets with varying capabilities, but only the Super UHD models offer all of the features described above.