LG OLED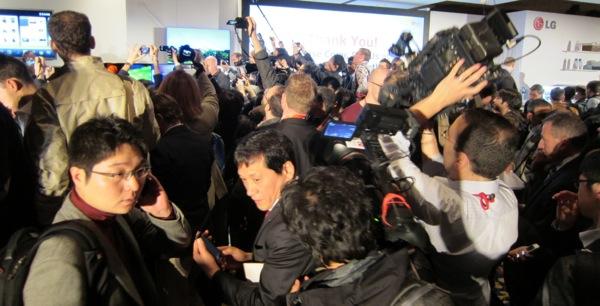 While no price or availability date was announced for LG's 55" OLED HDTV, its prototype drew big crowds at the opening press conference of the day. So big, in fact, that you can't see the set with the madding crowds pushing in for a closer look.
What we do know is that the set uses what LG refers to as 4-Color Pixels (red, green, blue, and white) together with a Color Refiner for color consistency over a wide viewing angle.
An eye-opening infinite contrast ratio is also claimed. This is possible because OLED is a self-illuminating technology in which the individual pixels, in theory, can be completely turned off. Response time is also said to be 1000x faster than in LED/LED sets.
LG's OLED TV is as pleasing aesthetically pleasing as it is technologically trend-setting. It's passive 3D-capable and an incredible 4mm thin (about one-sixth of an inch) and a feather-light 17 lbs.
WHERE TECHNOLOGY BECOMES ENTERTAINMENT