LG DU-60PY10 60-inch Plasma HDTV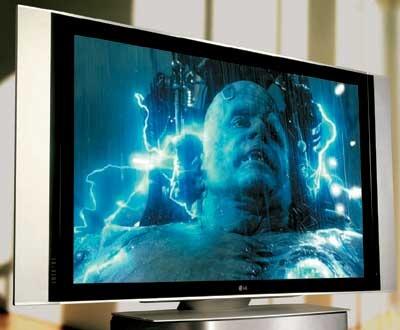 With a 60-inch (diagonal) screen and a cabinet only 5 inches deep, LG's largest plasma HDTV, the DU-60PY10, has the kind of measurements both home theater buffs and interior designers will find enticing. But unlike many of its industrial-style plasma counterparts, this panel is very much a traditional, self-contained TV. The speakers are permanently attached, a tabletop stand is included, and if you plug cable and antenna wires into the back, you can watch both analog and digital programs - including high-def - without needing an add-on tuner or cable box. Illuminated icons along the left side of the bezel indicate the active input and TV sound mode. The LG is also one of the first sets to offer both a slot for a CableCARD, which unscrambles premium cable channels (see "Wild Card"), and an on-screen program guide.
SETUP Connection and setup were fairly straightforward after I convinced one of my coworkers to give me a hand lifting the 189-pound TV onto a table. The set's EZ Scan feature conveniently set up all available digital and analog channels. The built-in HDTV tuner handily outperformed both a Dish DVR-921 satellite receiver and a Samsung SIR-T160 tuner that I had on hand, finding all available over-the-air high-def channels despite difficult indoor reception conditions.
FAST FACTS
DIMENSIONS (WxHxD) 67 1/4 x 36 5/8 (with stand) x 5 inches WEIGHT 189 pounds PRICE $15,000 MANUFACTURER LG, www.lgusa.com, 800-243-0000
KEY FEATURES
• 60-inch (diagonal) 16:9 screen • CableCARD slot • Digital Cable Ready with over-the-air HDTV tuner • TV Guide On Screen program guide • side inputs composite/S-video with stereo audio • rear inputs HDMI, 2 FireWire, VGA, 2 wideband component-video, and composite/S-video, all with stereo audio; 2 digital/analog antenna/cable; 2 optical digital audio • rear outputs composite-video with stereo audio; optical digital audio
To go with the CableCARD slot, the LG offers the TV Guide On Screen electronic program guide (EPG). Unlike a standard digital cable box, CableCARD is a one-way system that can't use the cable company's EPG, which requires a two-way connection between your TV and your cable provider, so it's good the set has its own EPG. TV Guide On Screen displays eight days of program information, categorizes shows and allows keyword searches, and can control a cable box and VCR with infrared (IR) blasters, scheduling recordings on the VCR - functionality that far outstrips Time Warner Cable's own EPG.
LATEST VIDEO