LG Announces Pricing and Availability for 2023 OLED Lineup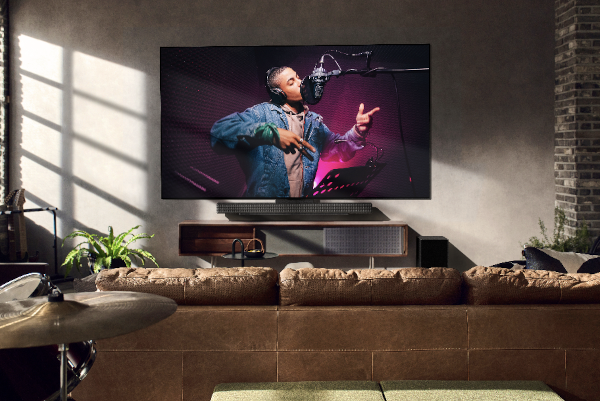 LG today announced pricing and availability for the 2023 OLED 4K TVs it previewed last month at CES 2023.
Topping the lineup are upgraded G3 (shown) and C3 evo series models, featuring LG's new AI-based α9 (Alpha 9) Gen6 image processor, which is said to increase brightness over previous models and expand color volume to equal or exceed the DCI-3 color space. LG says the new models boost brightness between 30% and 70% when compared with non-evo B3 Series OLED models.
The new Alpha series processor also includes dynamic tone mapping, which divides the image into 20,000 blocks and analyzes each block in real-time to optimize high dynamic range (HDR) performance, and an "HDR expression enhancer," which is said to detect and refine faces and other objects to make them appear more lifelike.
The updated G3 models now feature LG's One Wall Design for little to no mounting gap when the TV is mounted on a wall, and all G3 and C3 models provide virtual 9.1.2 surround processing through the TVs' built-in speakers.
All G3 and C3 models ship in March and available for preorder on Monday (March 6).
Pricing for G3 "Gallery Edition" models (OLEDxxG3PUA), is as follows: 83 inches ($6,500), 77 inches ($4,500), 65 inches ($3,300), and 55 inches ($2,500).
Pricing for C3 (OLEDxxC3PUA) models is 83 inches ($5,300), 77 inches ($3,500), 65 inches ($2,500), 55 inches ($1,800), 48 inches ($1,400), and 42 inches ($1,300).
LG said it plans to announce additional G3 and C3 models in the future and said its flagship 97-inch G2 "Gallery Edition" OLED97G2PUA is available for $25,000.
LG's 2023 B3 Series 4K OLED models (OLEDxxB3PUA) will ship in April. Pricing is as follows: 77 inches ($3,300), 65 inches ($2,400), 55 inches ($1,700).
At the lower end of the price spectrum, the following lifestyle TVs are available now: 55- and 48-inch Posé (xxLX1QPUA) models featuring a stylish floor stand, are $2,000 and $1,700, respectively, and the 42-inch Flex (42LX3QPUA), featuring a curved screen, is $2,500.
All of LG's 2023 OLED models include the latest version of LG's webOS platform, which features a user interface (UI) that has been redesigned to enhance convenience and personalization as well as provide more customization options. The home screen, for example, is now grouped into Home Office, Gaming, Music, and Sports categories for faster access to desired content. Enhanced personalization comes in the form of AI Concierge, which presents individual viewers with a curated list of content choices based on past usage and search inquiries in addition to providing keywords for browsing content that is trending.
Other common features across LG's new OLED TVs includes support for HDMI2.1a, Dolby Vision HDR, and Dolby Atmos surround sound plus wireless integration with LG soundbars. LG says its 2023 TVs are the first to be certified for Quick Media Switching Variable Refresh Rate (QMS-VRR), which is designed to eliminate the momentary black screen that sometimes occurs when switching between content from different sources; the feature is only available when using HDMI 2.1 QMS VRR-certified source devices.
Gamers will also appreciate a 0.1 millisecond response time, low input lag, and access to up to four HDMI 2.1 48Gbps ports (depending on model). All OLED models are also equipped with a Game Dashboard menu overlay and Game Optimizer for quickly selecting and switching between display presets, including a customizable User preset, and other gaming features.
Still no word on what the state-of-the-art 97-inch M3 OLED TV will cost and when it will ship, though the company said it plans to deliver the TV this year.
For more information on LG's 2023 TV lineup, visit lg.com.