LG 47LB1DA 47-inch LCD HDTV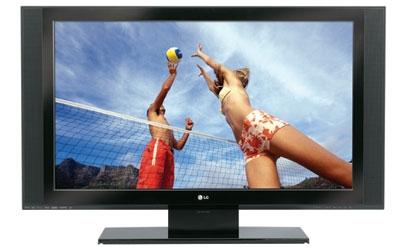 Not too long ago, if you wanted a big flat-panel HDTV, you had one choice: plasma. But times have changed, and these days, LCD has staked a claim in the popular 42- to 50-inch size range, with many sets offering the added attraction of 1080p resolution. A good case in point is the new LG 47LB1DA 47-inch LCD HDTV, which lists for $3,600 - a nice price for a large, 1080p flat-panel TV.
With a black gloss bezel and a stand that swivels 45 degrees, the 47LB1DA has a sleek, high-tech look. Its speakers are built into the sides of the screen but don't add much to the set's overall width. Controls to adjust volume, switch inputs, and cruise menus are below the panel, and there's an A/V convenience input with composite- and S-video jacks on the left-hand side.
Dual HDMI inputs (compatible with 1080p signals) and component-video jacks on the back should cover all your high-def input needs. There's also a VGA port for plugging in a computer - a desirable feature that seems to have gone missing from many new flat-panel TVs. Rounding out the LG's jack pack are a CableCARD slot for tuning encrypted digital cable channels without a cable box, an optical digital audio output, and an RS-232C input for connecting an advanced home theater control system.
The remote's layout is somewhat busy, with no backlight to help you locate buttons in a dark room. Fortunately, the two I tend to use most - Input and Ratio - were grouped near the remote's top where I could easily find them. Pressing Input calls up a menu that lets you scroll through and select active connections, while repeated presses of the Ratio button toggle through the set's plentiful display modes: 4:3, 16:9, Horizon, Zoom 1 and 2, and Cinema Zoom (a variable adjustment with 16 steps). All modes can be selected for both standard- and high-def channels, and there's also a Set by Program option that automatically selects 4:3 or 16:9 based on the format of the incoming signal.
LATEST VIDEO