Kodak EasyShare-One Wi-Fi Camera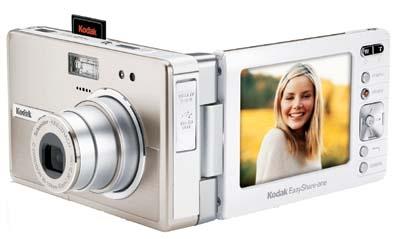 The Short Form
$600 / kodak.com / 800-235-6325 / 4.125 x 2.5 x 1 IN / 8 OZ
Plus
•Don't need computer to share or print photos. •Useful and simple Wi-Fi abilities. •Large LCD viewscreen doubles as touchscreen controller.
Minus
•Wi-Fi not built directly into camera.
Key Features
•3-inch, 920 x 240-pixel touchscreen LCD •256 MB of internal memory •SD/MMC card slot •Captures 1.1-, 2.1-, 3.5-, or 4-megapixel JPEGs •3x optical zoom •17 preset exposure modes •Records 640 x 480-pixel video at 24 fps •Includes USB and video cables, CD-ROM software, Wi-Fi card, lithium-ion battery (plus spare), charger, and leather sleeve
Like the iPod did for music, cellphones have both revolutionized and in some ways "ruined" digital photography. Now that pretty much everybody has a digital camera, hardly anyone seems to care about quality anymore. No, as long as your photos are easily sharable - and on a phone they can be in your sister's hand as fast as you can send a text message - that's all that matters.
But there may be a way to have it both ways. Kodak's EasyShare-One aims to give you the convenience of instant sharing in a fully featured 4-megapixel digital camera. The not-so-secret ingredient is Wi-Fi. Just get the camera in a hot spot and fire up its Wi-Fi card (802.11b for you wireless aficionados), and you'll be able to send photos via e-mail straight from the camera. That PC middleman just might be out of a job.
Well, the camera doesn't actually e-mail the photos to the recipient. Instead, it uploads them to Kodak's online Easy­Share Galley (kodakgallery.com) and sends a message with a link that lets the recipient view or download them. The method makes sense - those 4-megapixel shots would clog a lot of inboxes if they were attachments. So don't throw away your computer just yet.
SETUP The camera smartly turns on as soon as you unfold the big 3-inch LCD viewscreen, which also doubles as a touchscreen. Kodak even includes the cutest little stylus, though your finger will work, too. A switch on the side toggles between picture-taking and browsing modes, and both use similar, sensible menus for navigation. When you're in capture mode, you can choose to snap stills or record video, and videos can be shared as easily as pics. For still pictures, the camera has 17 preset exposure modes (from close-ups to self-portraits to night photography). Taking pictures is easy and intuitive, although you'll need the manual to use it to the max.
PERFORMANCE The EasyShare-One is perfect for taking photos around a big city like New York, with its hundreds of Wi-Fi nodes. One night while I was out having an amazing dinner at a Spanish restaurant I'd just discovered, I e-mailed some photos of the spectacular-looking entrées to a friend. Thankfully, the number of steps (like entering the e-mail address with the stylus) is kept to a minimum, so I was able to fire off the photos before my appetizer was cold.
The whole sharing process is straightforward, although I'm not sure why Kodak didn't build the Wi-Fi card directly into the camera - you have to slide it into a slot on top. When you do, it sniffs out Wi-Fi networks like a bloodhound (and will save encryption passwords so you don't have to enter them every time you connect). But having to insert the card takes a bit away from the convenience of it all.
If you want to offload photos and videos the old-fashioned way - through USB cable to a PC or Mac - you can. But if you're just going to upload them to an online gallery for your friends to see anyway, there's no point unless you want to keep a personal archive.
Kodak offers an optional Easy­Share printer for $200, a transportable (7.5 x 5.25 x 3.75-inch) machine that can bang out great-looking 4 x 6 prints at about one per minute (my shots were sharp and vibrantly colored). If you put the camera in the printer's dock, you don't even need a computer to print. Better yet, with the optional Wi-Fi printer card ($100), you don't even have to attach the camera!
BOTTOM LINE Still, considering how most people check out photos these days, prints are starting to look pretty archaic. If you're e-mailing shots to your friends, and they're checking them out on their iPods or PDAs, who needs a printer? Ultimately, that kind of simplification is what this camera represents, and why it's a potentially revolutionary product. Serious photographers will want a few more megapixels, but if there's lots of Wi-Fi in your town, you'll be amazed at how often you'll want to use the wireless abilities of the EasyShare-One.