Klipsch Kicks Off Summer with Self-Contained Portable Party Speakers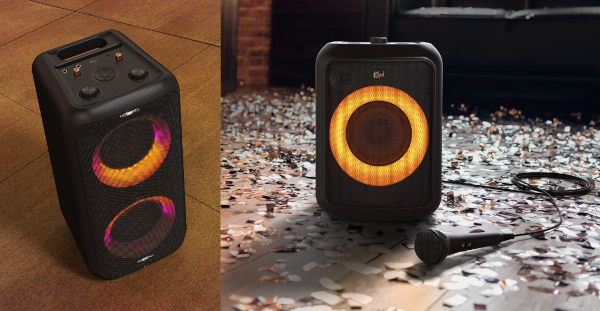 Speaker icon Klipsch has found a new way to remain true to its audacious tagline, "Pissing off neighbors since 1946," with the launch of its first wireless party speakers.
The Gig XL ($249) and Gig XXL (left, $349) battery-powered speakers are water-resistant and, as Klipsch puts it, "engineered for ultimate entertainment experiences," making them perfect for outdoor gatherings and, of course, raucous poolside parties.
Both are made of durable ABS plastic with perforated metal grilles and built to kick out the jams with a pair of 2-inch tweeters bolstered by one (XL) or two (XXL) "insanely powerful" 6.5-inch drivers rated to play down to 50 Hz or 60 Hz (±3 dB) and deliver a maximum acoustic output of 105 or 111 dB (at 0.5 meters), respectively. And with a rated battery life of 8 hours, you'll be able to go all night long with either model.
Though the speakers are sturdy and built for max SPL, they are reasonably compact and easy to move around thanks to an integral handle. The Gig XL is 14 inches tall and weighs 9 pounds, while its big brother stands 22 inches tall and tips the scales at 18 pounds, with the additional weight attributable to that extra woofer.
Living up to the name "party speaker," both models come with a wired microphone for karaoke action and feature a bass-boost button and multicolor light-show mode that syncs up with the beat of the music. Party animals (and your neighbors) will love that two Gig speakers can be joined wirelessly to create a true stereo experience that catapults volume potential to the next level.
Besides being taller and more powerful than its little brother, the Gig XXL adds another cool feature: It doubles as a guitar amp with a top-mounted ¼-inch jack and dedicated volume and echo controls, highlighted with copper-colored knobs.
For playback flexibility, both speakers are equipped with a 3.5mm analog line input and USB port in addition to the microphone input (and guitar input in the case of the Gig XXL). The connections are located on the top panel of the Gig XXL and in the back on the Gig XL. For more information, visit klipsch.com.
Related:
Take It to the Patio: Self-Contained Party Speakers from Sony and LG, and More