KEF Celebrates 60 Years with Sleek Wireless Towers, Klipsch Updates Reference Lineup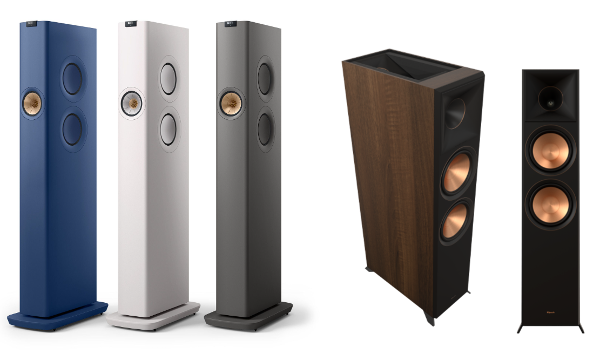 Two iconic names in British and American hi-fi are drawing on many decades of experience in home audio to advance the art and science of speaker design. KEF is celebrating 60 years with a sexy new wireless tower speaker, while the company founded by Paul W. Klipsch in 1946 works to refine its flagship Reference Premiere series and step-down Reference series yet again.
All-in-One Streaming Powerhouse
KEF's sleek LS60 Wireless (left in opening photo) stands 43 inches tall but is only 5 inches wide and about 18 inches deep thanks to the use of side-mounted 5.25-inch Uni-Core woofers, two per side, mounted back-to-back in a force-cancelling arrangement designed to minimize cabinet vibration. Another enabling factor of the slender appearance, adapted from the brand's high-end Blade series, is the 12th-generation version of KEF's signature Uni-Q driver, which seats a 0.75-inch aluminum-dome tweeter in the throat of a 4-inch aluminum woofer.
This latest version of the Uni-Q embraces Metamaterial Absorption Technology (MAT), developed in conjunction with Hong Kong's Acoustic Metamaterials Group (AMG), which is said to absorb unwanted sound, resulting in "more natural acoustic performance."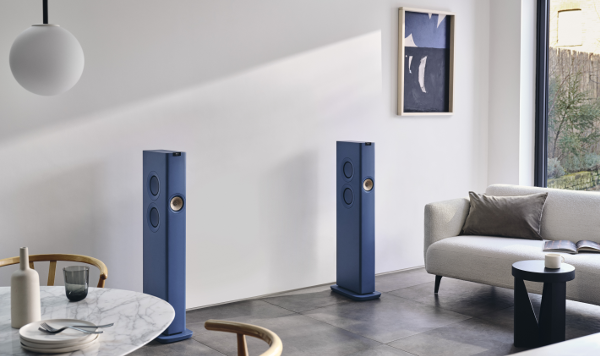 Brought to life with a combined 1,400 watts from low-, mid-, and high-frequency amplifiers in each speaker, the system is an all-in-one streaming powerhouse offering AirPlay 2 and Google Chromecast compatibility, easy app access to wireless streaming options, and Wi-Fi or Bluetooth wireless connectivity in addition to eARC-enabled HDMI, optical, coaxial, and RCA connections. Each speaker also provides a subwoofer output for listeners who want bolder bass, although a stereo set of LS60 Wireless speakers on their own are rated down to 31Hz –3dB (26Hz –6dB).
The KEF Connect app provides access to Amazon Music, Qobuz, Deezer, and internet radio, while the system supports native streaming directly from Spotify Connect, Tidal Connect, and QPlay. The system is also Roon Ready and supports wireless streaming of PCM files up to 24-bit/384kHz as well as MQA and DSD decoding.
Priced at $7,000, the LS60 Wireless speaker system is available for pre-order with shipment expected at the end of the month. For more information on the LS60 Wireless, visit us.kef.com.
Klipsch Takes Reference Up a Notch
Now in its third generation, Klipsch's updated Reference Premiere series aims to improve high-frequency response and extension, while enhancing imaging and dynamics through the use of a new, larger Tractrix horn, the proprietary design the company has been using for more than three decades. The series also features a "linear travel suspension" (LTS) tweeter, designed to bring out more detail, and the brand's signature Cerametallic woofers, which incorporate aluminum Faraday rings to reduce voice-coil inductance modulation and work with the cabinet's Tractrix ports to maximize efficiency while minimizing distortion.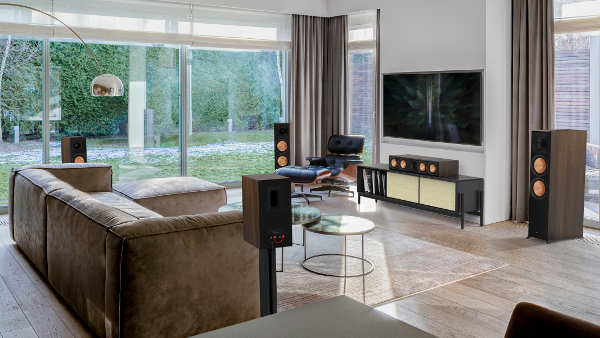 The series includes four tower speakers, three center-channel models, two bookshelf speakers, a height module, and a wall-mountable surround speaker. All are offered in a furniture-grade ebony or walnut finish with easy-to-remove magnetic grille covers. Prices range from $599/pair for the RP-500M II bookshelf speaker to $2,998 for the top-line RP-8060FA II tower (shown above) featuring a two-way driver complement that fires from the top of the speaker for reproducing Dolby Atmos or DTS:X soundtracks. For more information on the Reference Premiere series, visit klipsch.com.
Updates to the Klipsch Reference series, one step down from Reference Premiere, include a larger "edge-to-edge" Tractrix horn for improved directivity and new woofers made of a spun-copper thermoformed crystal polymer that dovetails with a new, steep angled cone to deliver "smoother response and better crossover integration."
The series includes three towers, two bookshelf models, two center-channel speakers, a standalone height module, and two subwoofers. Prices range from $349/pair for the R-50C center speaker to $1,798/pair for the R-605FA tower model (shown above) featuring height-channel drivers that fire from the top of the speaker. Finish is scratch-resistant black woodgrain vinyl. For more information on the Reference series, click here.