Keeping the Classic Stereo Console Alive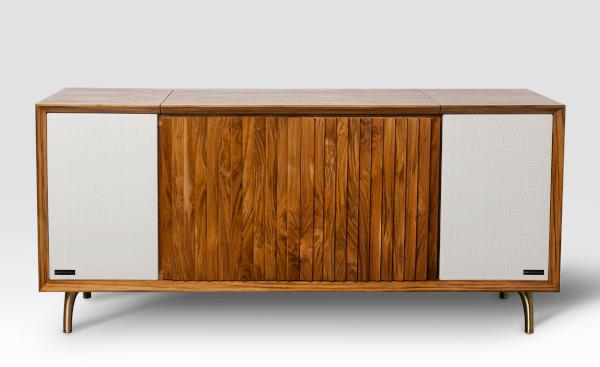 Wrensilva, the San Diego-based audio company specializing in self-contained audio systems reminiscent of the classic stereo console that was a fixture in living rooms across America in the 1960s and '70s, has announced a limited-edition version of The Standard, its most popular model.
The new model sports a luxurious teak finish featuring slatted doors, removable off-white speaker grilles, and adjustable satin-brass legs. The cabinet is made of "hand-selected FSC-certified plantation teak," meaning the wood is sourced from responsibly managed forests. The company is only taking orders for 100 consoles, each hand-built in San Diego.
Like all Wrensilva systems, The Standard Teak honors the classic hi-fi console with a built-in turntable in addition to supporting wireless streaming via aptX-enabled Bluetooth 4.0 or Wi-Fi, the latter for sending music to Sonos speakers around the house and controlling it via the Sonos app. The system has a storage compartment that holds up to 120 LPs plus a pocket next to the turntable for 15 more albums and includes a 3.5mm minijack for quick phone hookups plus two analog stereo RCA inputs for bringing other source components into the mix and a set of preamp output jacks.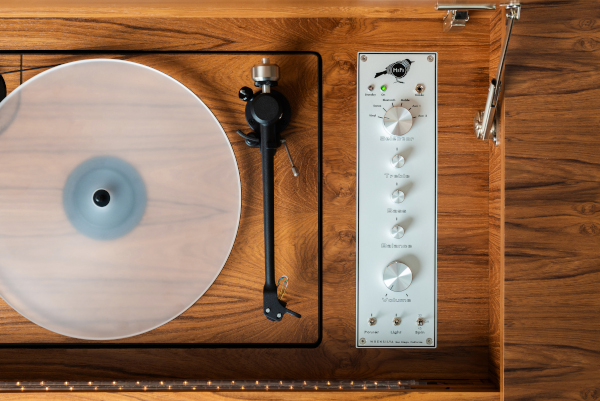 The turntable is a fully decoupled belt-driven design featuring an 8.6-inch molded magnesium tonearm fitted with an Ortofon 2M Red moving-magnet cartridge, Hurst motor with electronic speed control, and a frosted acrylic platter with an aluminum spindle. The control panel next to the turntable has bass, treble, balance, and volume dials in addition to a six-position source selector; toggle switches at the bottom control power (on/off), turntable playback speed (33 1/3 or 45 rpm), and cavity lighting (on/off).
Sound is delivered through a two-way bass-reflex speaker system with left and right driver complements, each mating a 7-inch treated paper-cone woofer with a 1-inch textile-dome tweeter and powered by a 300-watt-per-channel Class D IcePower amplifier from Denmark's Bang & Olufsen. The system is rated down to 38 Hz (±2.5 dB, measured off-axis.)
The console is 59 inches wide, 27 inches tall, and 19 inches deep and boasts high-quality torque hinges for "rattle-free listening" and cutouts to help ease cable management. The Standard Teak console is priced at $9,990 plus $650 for shipping, which includes white-glove service; lead-time is 4-6 weeks. For more information, visit wrensilva.com.