JVC Introduces 50-Inch BlackCrystal LED LCD TV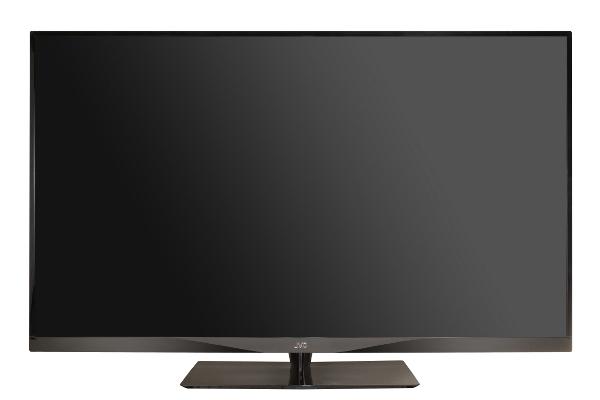 As a service to our readers, HomeTheater.com publishes selected manufacturer-supplied announcements and press releases for products that we think might interest you. Content is posted here exactly as issued by the manufacturer and does not imply endorsement of any kind by Home Theater or any hands-on experience by its reviewers or editors. Visit our Reviews area to browse test reports for products that have been formally evaluated by our expert staff.
JVC Introduces 50" BlackCrystal E-LED TV
– The R Series BC50R joins a growing line of affordable edge-lit BlackCrystal LED TVs, with 1080p video, Energy Star-certified efficiency, and XinemaSound™ 3D audio processing technology –
IRVINE, CA, April 8, 2013 – JVC-TV, the legendary brand in audio/video electronics, announces the introduction of the new 50" R Series BC50R BlackCrystal E-LED HDTV featuring an extremely slim, efficiently powered edge-lit LED screen, 120Hz CrystalMotion™ video processing, and JVC's XinemaSound™ 3D post-processing audio technology.
The new BC50R joins the original JVC BlackCrystal LCD and E-LED line, which until now featured screen sizes ranging from 32 to 47 inches. In addition to expanding the screen real estate of the BlackCrystal line, the 50" model also sports a new, ultra-thin bezel design, while carrying over all of the high-performance features that made previous models a standout in the value-oriented LCD/LED market, including 1080p Full HD video at 120 Hz; CrystalColor™ technology for brilliant color reproduction and sharp, lifelike imagery; and of course, XinemaSound™ 3D, which applies a number of psychoacoustic and digital signal processes to elevate the TV far beyond what is normally possible with built-in TV speakers, thereby negating the need for an outboard audio solution.
"Today's television is, by and large, bifurcated into two distinct classes: the upper end, which boast superior picture quality and enhanced smart streaming connectivity; and the value-oriented end, which lacks both," said Drew Pragliola, Vice President of Sales and Marketing at AmTran Video Corp. "With the BlackCrystal line, we're offering consumers a middle alternative—stunning video and audio performance, but without the built-in apps and media streaming that is redundant in many consumers' AV systems. And with the addition of the BC50R, we're delivering it all at a new large screen size, with a gorgeous new ultra-slim, narrow-bezel design to boot."
In addition to employing the same crosstalk cancelling technology found in high-end soundbars to enhance channel separation and create a more lifelike surround sound effect, XinemaSound™ 3D also applies an Equal Loudness Contour to the audio signal, for perceptually balanced audio mix that sounds more natural to the ears across the entire sonic spectrum; as well as Clear Dialog processing, which dynamically and selectively adjusts the level of dialog in an sound mix to ensure that viewers will never strain to hear a word of their favorite TV shows or movies.
To accompany its stunning sound quality the BC50R boasts a complete complement of video adjustments and enhancement, allowing the end-user to dial in the perfect picture in any environment, including: smart local dimming for superior black levels and enhanced contrast; 2D motion-adaptive de-interlacing with automatic 3:2 & 2:2 reverse pull-down; color temperature adjustments with independent gain and offset; an Ambient Light Sensor, which automatically adjusts brightness to the room ambient light level for a more comfortable viewing experience; and an impressive 6.5ms response time, all from a 1080p panel boasting 20,000,000:1 dynamic contrast ratio and a viewing angle of 178°.
In addition, the BC50R features two HDMI inputs with CEC (Consumer Electronics Control), allowing users to take control of all HDMI connected devices with one remote; HDMI 1 also supports ARC (Audio Return Channel), which simplifies connectivity for users with AV receiver by eliminating the need for an additional optical audio cable.
For easy viewing of photos, the BC50R reads .jpg files via a USB input. A stereo headphone output allows private listening or late-night viewing, and an Audio Only mode to conserve energy when listening only to soundtracks. Other energy-saving features include Auto Power Off and full Energy Star certification.
JVC-Kenwood licensed AmTRAN Video Corporation (AVC) to manufacture and market the BlackCrystal BC50R in North America. The JVC brand is legendary in consumer electronics for many innovations, including the VHS videocassette format of the 1970s and 80s. The BC50R will be available in April for $799 SRP.