JVC HD-70FH96 70-inch HD-ILA HDTV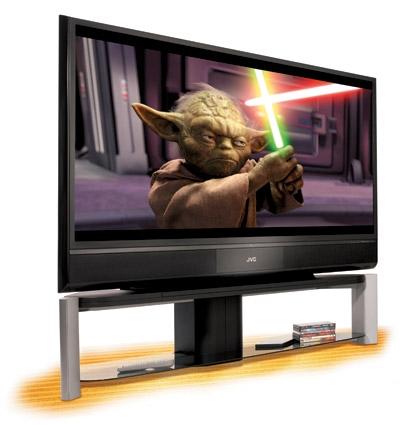 I've been impressed by the image quality of many of the 1080p HDTVs I've seen lately, but to me the biggest surprise over the last year has been the excellent pictures produced by variants on LCoS (liquid crystal on silicon) technology. LCoS uses light reflected from silicon chips covered with liquid crystals - 1080p models boast more than 2 million pixels' worth. Sony scored big among videophiles with its SXRD version of LCoS in 70-, 60-, and 50-inch rear projection TVs, and now JVC has produced the HD-70FH96, a 70-inch 1080p HDTV using what it calls HD-ILA technology. It costs about half as much as Sony's 70-inch flagship, and its image quality is a huge step up from JVC's earlier HD-ILA big screens that offered only 720p resolution.
To judge from this and other HDTVs we've seen recently, black is the new silver among TV designers. This massive box is all the same color of matte black, and a thin bezel surrounds the screen on all sides to give it more of a floating effect. If compact could possibly describe a 70-inch HDTV, this set would qualify. Its textured metal front plate bears a big JVC logo, and the power button glows blue when the set is turned on.
While the outside of the TV looks great, I can't say the same for its menu system. The HD-70FH96's blocky onscreen display is unrefined by today's standards, and the menus aren't as well thought out or easy to navigate as on other HDTVs I've tested lately. Nor was I really fond of the remote, which has heavily used buttons scattered haphazardly. But I did appreciate the easy access to picture modes via the Video Status key as well as the full backlighting.
LATEST VIDEO