JVC Everio GZ-MC200 Digital Camcorder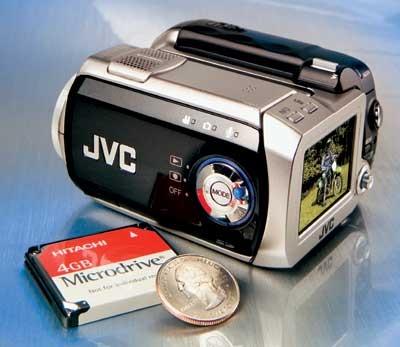 MiniDV is the most popular camcorder format even though you still have to endure that quaint ritual of rewinding tape. But the days of stringing out digital bits on tape are numbered. Videocassette king JVC has introduced a pair of tapeless camcorders - the Everio GZ-MC100 ($1,200) and GZ-MC200 (shown, $1,300) - using removable 4-gigabyte (GB) Microdrives, matchbook-size hard disks that each store an hour of high-quality MPEG-2 video.
FAST FACTS
DIMENSIONS (WxHxD) 3 x 2 1/4 x 3 3/4 inches WEIGHT 3/4 pound with battery, hard disk, lens cap, and hand strap PRICE $1,300; extra Microdrive, $499 ($299 for a limited time) MANUFACTURER JVC, jvc.com, 800-252-5722
KEY FEATURES
• Records video or stills on supplied, removable 4-GB Microdrive or your own CompactFlash or SD card • 1/3 -inch, 2-megapixel image sensor • 10x optical zoom, still flash, 1 3/4 -inch LCD viewscreen, mono speaker • outputs composite/S-video with stereo audio; headphone with supplied adapter cable; USB 2.0 port; CF slot (for Microdrive or CompactFlash card); SD slot
The JVC Everios are two of the smallest and lightest camcorders we've ever seen. Though the specs are identical, their designs are very different. The vertically oriented GZ-MC100 has a foldout LCD viewscreen, while the horizontal and slightly heavier GZ-MC200 (the one I tested) has a split body: the part containing the lens rotates 45° up or down, while the other part houses the battery, Microdrive, and a 1 3/4 -inch LCD viewscreen.
The same slot used for the Microdrive can also hold an optional CompactFlash card, and like most digital camcorders today, both models can also be used as digital still cameras. The 2-megapixel Everios are capable of storing 6,000 images at the finest resolution (1,600 x 1,200 pixels) on a Microdrive or some 96 images on an optional 64-megabyte SD card (which goes in a separate slot).
I took a preproduction model to my cabin in the country, where all of a sudden a roaring engine overrode the sounds of nature to herald the arrival of my neighbor with his new toy. A helmeted Robert Z. appeared wearing a jumpsuit with racing stripes. He was raring to show off some stunts on his newly acquired Kawasaki dirt bike, and I obliged by capturing them on video.
LATEST VIDEO