JVC DLA-HD750 Front Projector Page 3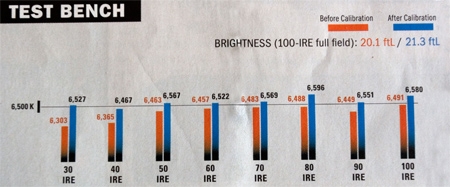 TEST BENCH The JVC's THX preset delivered the best out-of-the-box picture. Grayscale tracking before calibration in that mode averaged 6,437 K from 30 to 100 IRE, with the greatest error only 193 K. That's impressively close to the target color temperature of 6,500 K. Still, I tried to improve on this by calibrating the projector from the User 1 mode and the Custom 1 color-temperature setting, and was able to improve slightly (although not noticeably) on the factory calibration, achieving an average temperature of 6,547 K with a maximum error of 96 K. Color-decoder tests through the HDMI and component-video inputs revealed errors. In the THX mode, for example, red was -10% through the component input, and green was -15% through the HDMI input. On the upside, the set's red, green, and blue primary color points matched the SMPTE HD specifications for digital TV colors almost perfectly.
The DLA-HD750 offers iris settings in 16 steps, from -15 to 0. Its Normal (150 watts) brightness mode is more than bright enough for a typical home theater setting, delivering 20.1 ftL on my 72-inch-wide 16:9 screen in the THX mode after the brightness and contrast controls were adjusted and the iris was set to -4. Native contrast ratio measured an impressive 10,050:1 in THX mode at factory settings and an astounding 21,300:1 after calibration and iris adjustment. For a projector without an auto-iris, this is nothing short of amazing. It's even better than some projectors can manage with their auto irises activated.
With overscan switched off, overscan measured 0% on top and bottom, and 1% on the sides. The projector displayed 1080i/p and 720p test patterns with full resolution on both the HDMI and component-video connections. Brightness and color uniformity were excellent at all signal levels--the picture looked almost perfectly even across the screen. A crosshatch pattern showed a mild vertical convergence error on red. Position controls are provided for red and blue, but the adjustments were too coarse to correct this problem.
The fan noise is moderately low, but it is a few decibels louder than the DLA-HD750's main competition, the whisper-quiet Sony VPL-VW70.