JVC DLA-HD1 1080p D-ILA Front Projector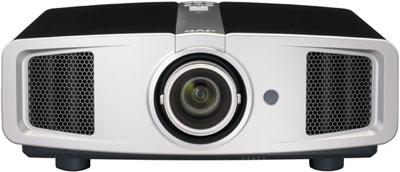 Turf battles in the 1080p front projector market have really heated up since Sony introduced its $5,000 LCoS-based SXRD model last fall. Since then we've seen LCD projectors in that price range arrive from Panasonic, Epson, and Mitsubishi, while Optoma and BenQ have rolled out single-chip 1080p DLP projectors for less than $10K. Another company angling for a piece of the budget-1080p action is JVC. Its new DLA-HD1 projector employs a proprietary version of LCoS called D-ILA (Direct-drive Image Light Amplifier).
The JVC DLA-HD1 1080p D-ILA front projector's basic feature set is similar to much of its competition's. A 200-watt UHP lamp can be set for high or normal output, depending on ambient light conditions. The 2x zoom lens has a 1.4:1-2.8:1 throw ratio, giving you fairly wide leverage for positioning the projector - with a 100-inch (diagonal) screen, it can be set up anywhere from 9 to 18 feet away. And along with zoom and focus adjustments, there's also horizontal and vertical lens shift.
Notably absent from the DLA-HD1 is an automatic iris function. On most of the competition, this helps boost picture contrast by dynamically varying the light coming off the projector's lamp based on the overall brightness of the image being displayed. According to JVC, the DLA-HD1's new light engine eliminates the need for a dynamic iris to achieve high contrast ratios - a claim the company effectively backed up in a side-by-side demonstration. The benefit is said to be solid blacks without the sacrifice of brightness in lighter parts of the image that accompanies the use of an iris.
The gloss-black and gunmetal gray DLA-HD1 has an attractive, streamlined appearance. The projector's inputs include two HDMI and component-, composite-, and S-video jacks, along with an RS-232C control port. The lack of a computer VGA input is something of an oversight. Its component-video jack doubles as an RGB input, but repeated attempts to sync up my laptop failed (you can plug a computer's DVI output into the HDMI inputs, however).