June 2018 New Gear Part 2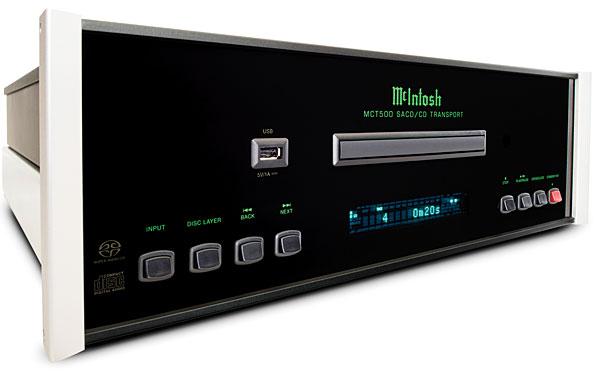 McIntosh MCT500 SACD/CD Transport
Audiophiles with to-die-for disc collections will appreciate McIntosh's latest audio marvel: a high-performance SACD/CD transport that plays "all common disc types" as well as audio files stored on a disc or USB drive. Supported file formats include AAC, AIFF, ALAC, DSD (up to DSD128), FLAC, MP3, WAV (up to 192 kHz/24 bit), and WMA. Of course, the MCT500 is a transport—not a player—so it must be connected to a preamp, receiver, or integrated amplifier with digital inputs and a digital-to-analog converter (DAC).
Silky Smooth:
The transport reads audio data at twice the normal rate to improve tracking and error correction, and disc handling is described as smooth and quiet, thanks to a die-cast aluminum tray and advanced digital servo. Balanced, coaxial, and optical digital outputs are provided in addition to McIntosh's proprietary MCT connector, which is required for SACD playback. Price: $4,500
McIntosh • (607) 723-3512 • mcintoshlabs.com
Peerless-AV HDS-WHDI100 PeerAir Wireless HD System
Let's say you bought a great little TV for your newly remodeled kitchen so you can watch Netflix while you're cooking dinner. Problem is, you're not about to carve up those pristine walls to run an HDMI cable from your family room. With Peerless-AV's HDS-WHDI100 PeerAir system, you can skip the wires and wirelessly stream an HD signal from a source component up to 100 feet away. No Static at All: The system, which comprises a compact transmitter and receiver, creates its own (802.11n) Wi-Fi network to avoid interfering with your existing Wi-Fi network. The transmitter has two HDMI inputs and a passthrough port so you can watch a movie on a local hardwired TV while wirelessly streaming that same movie to a second TV, often eliminating the need for an extra cable box. Price: $299
Peerless-AV • (800) 865-2112 • peerless-av.com
Monitor Audio Vecta V240 Corner Speaker
Versatility is a beautiful thing, and Monitor Audio's Vecta V240 has it in spades. It looks great, has an ingenious single-point-connection bracket that simplifies installation, and can be mounted vertically or horizontally. But that's not all: The speaker is weather resistant, so you can take it outside and mount it under the eaves. Built to Last: The speaker's ceramic-coated aluminum magnesium (C-CAM) drivers—two 4-inch woofers and a 1-inch anodized gold dome tweeter—are mounted on a curved baffle to "ensure a controlled soundfield" and encased in a high-density ABS enclosure with a rust-proof grille. An IP-55 rating means the V240 is dust resistant and able to withstand a direct water spray. Price: $575 each
Monitor Audio (distributed by Kevro International) • (905) 428-2800 • monitoraudio.com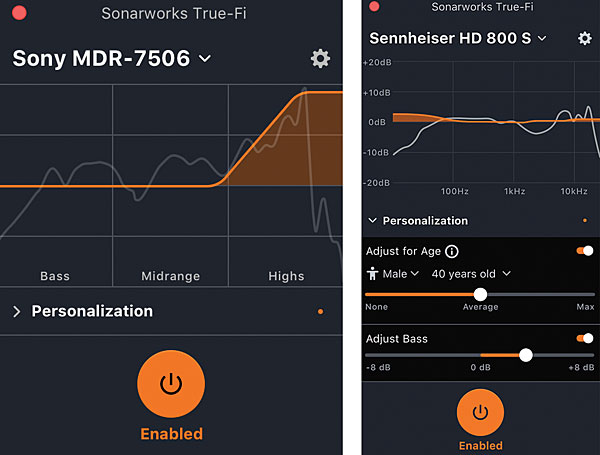 SonarWorks True-Fi Headphone App
Ready to make your ordinary headphones extraordinary? With its True-Fi headphone app, SonarWorks aims to deliver a sonic experience that gets closer to the way artists intend their music to be heard. The app effectively analyzes and EQs the frequency response of 138 popular headphone models from 38 brands to create a flat, "studio reference" response curve. Get Personal: Once the app works its magic, you can personalize the sound to compensate for age-related hearing loss and even tweak the bass since most of us prefer a little boost over completely flat sound. Visit sonarworks.com for a list of headphones, an audio demo, and a free trial. The app is available for Mac and PC, and SonarWorks offers a 15-day money-back guarantee. Price: $79
SonarWorks • sonarworks.com
Elac Debut 2.0 Speaker System
Elac's nine-model Debut 2.0 speaker series builds on the Andrew Jones–designed Debut series introduced in 2015. The cabinets have been redesigned with a front-mounted port for greater placement flexibility and are made of thick MDF, internally braced to reduce cabinet vibrations and unwanted colorations. A new silk-dome tweeter with a wide-dispersion waveguide has also been added along with an aramid-fiber woofer that was redesigned to improve stiffness and damping. Something for Everyone: The line comprises two two-way bookshelf speakers ($250/pair and $300/pair), a couple of two-way center speakers ($200 and $280) designed to mini- mize power requirements from low-cost receivers, two three-way towers ($600/pair and $800/pair), an add-on Dolby Atmos height module ($250/pair), two wall-mountable speakers, and an app-controlled 400-watt subwoofer with a 10-inch driver ($450). All cabinets are finished in black ash vinyl.
Elac • (714) 252-8843 • elac.com