July 2014 New Gear
Sonance SonArray Outdoor Speaker System
Summertime at last. Time for pool parties and barbecues. Time to transform your backyard into an outdoor concert venue! Which is precisely what the SonArray SR1 system is intended to do. In one tidy package, you get eight weatherproof satellites and an in-ground subwoofer, capable of serenading areas up to 2,000 square feet without calling attention to themselves. Each satellite consists of a shrouded 3.5-inch aluminum driver attached to a mounting stake; bass is handled by an 8-inch dual-voice-coil woofer mounted in a subterranean cylinder that vents into a mushroom-like dome.
Easy Like a Sunday Mornin':
The system is designed to present an easy 8-ohm load to your amplifier or receiver. For each stereo channel, four satellites are wired in parallel with the woofer.
Price: $2,499 Sonance • (800) 582-7777 • sonance.com

McIntosh MHA100 Headphone Amplifier
We have no idea why it took McIntosh 65 years to get around to making a headphone amplifier, but we can tell you that the MHA100 is built like a tank and offers three selectable impedance ranges to accommodate virtually any type of headphone—from earbuds to studio-quality cans. The amp offers a five-step bass-boost control and uses proprietary technology to create a speaker-like listening experience.
Mini Mac: Actually, it's a misnomer to call the MHA100 a headphone amp since its 11.5 x 6 x 18-inch chassis also contains a 2 x 50-watt amplifier. Whether you're listening to headphones or speakers, Power Guard circuitry is said to prevent clipping. The unit has four digital inputs and upsamples signals to 192 kilohertz with 32-bit resolution.
Price: $4,500 McIntosh Laboratory • (800) 538-6576 • mcintoshlabs.com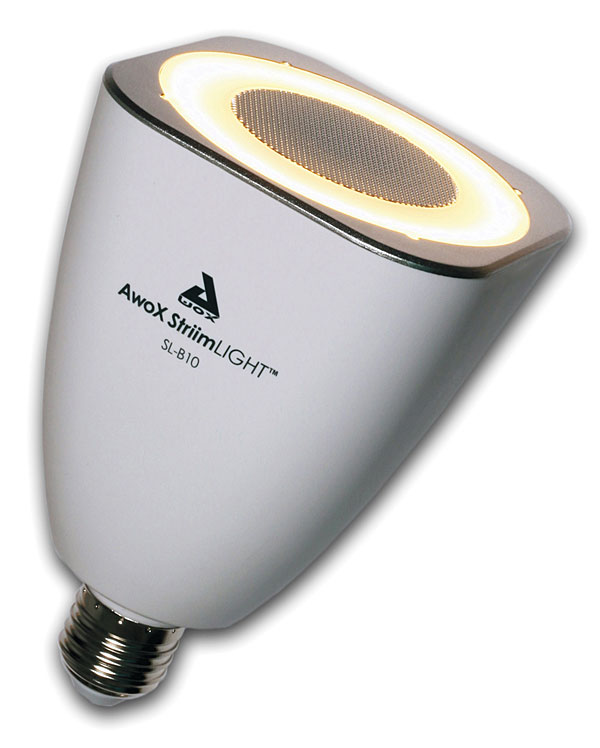 AwoX SL-B10 StriimLight Bluetooth Speaker
Ever wish you could add speakers to a room with the snap of a finger? Sorry, that's impossible. But the SL-B10 StriimLight might be the next best thing for bringing sound to any room in a flash. Literally. That's because it's an LED light with a Bluetooth speaker in the middle of it.
Let There Be Sound: Screw the SL-B10 into any standard light socket, pair it with your Bluetooth-enabled smartphone, and you have sound (and light) without pulling wires or changing the décor. Lighting is equivalent to a 40-watt incandescent bulb, and the 2-inch speaker is powered by a 10-watt amplifier, making the speaker ideal for rooms where space is limited. A compact remote for turning the light on and off and adjusting volume is included.
Price: $99 AwoX • (650) 617-3359 • awox.com

Bell'o BDH851 Over-the-Ear Headphone
Given the supplied, easily swapped red, blue, and black covers that allow the Bell'o BDH851's earcups to change color like a chameleon, it'd be easy to mistake it for just another fashion headphone. But you'd be selling it short. Bell'o put some serious high-performance sound into its profile and paid close attention to construction details that include a removable, 99-percent-copper cord with strain relief and tangle-free fabric cover; solid lightweight metal construction; and soft memory foam ear cushions that make it extraordinarily comfortable.
One Button to Rule Them All: The cord's one-button multifunction control with integrated microphone works on most Apple, Android, and Blackberry devices to let you accept and hang up calls; play, pause, or track advance/back music; or access your phone's voice control functions. A soft protective case is included as well.
Price: $130 Bell'o • (732) 972-1333 • bello-digital.com

NYNE Aqua Waterproof Bluetooth Speaker
Here's the dilemma: You love chillin' with music, especially when you're lounging in the pool, but an outdoor speaker system is not in the cards—at least not for this summer. Solution: Stream tunes from any Bluetooth-enabled smartphone to the Aqua waterproof speaker, and you'll be jammin' in no time, as long as the phone is no more than 30 feet away.
Sonic Submarine: Not only is the speaker waterproof but it floats and is IPX7-rated, meaning it can be submerged in up to 3 feet of water for 30 minutes. The 9.5-inch-wide speaker is rated for 10 hours of playtime, courtesy of its rechargeable lithium-ion battery. It even has a built-in microphone for taking calls when paired with a smartphone.
Price: $130 NYNE • (888) 722-6963 • nyne.com
LATEST VIDEO