Joe Kane Productions Digital Video Essentials: HD Basics Setup Disc User Interface
User Interface
The animated menu system on both versions is much like the menu on the
DVE
HD DVD, though its organization is even more intuitive and user-friendly. (According to Kane, implementing this menu system for the Blu-ray version was much more difficult, pushing the release date back by six months.)
The initial menu lets you select between the complete program menu, the "HD in Detail" background tutorial, the "Setting Up My HDTV" tutorial on how to use the patterns on the disc, and "Just the Test Patterns," which jumps to the suite of basic patterns.
The complete program menu provides direct access to the tutorials, basic video patterns, advanced video patterns, and audio test signals (see Fig. 1). On the HD DVD version, it also provides access to "My Favorites," patterns that you select and arrange to suit your particular needs. Most of the advanced test patterns are available in 1080p and 720p resolutions; the only exceptions are the 5-100% gray windows, which are available in 1080p only.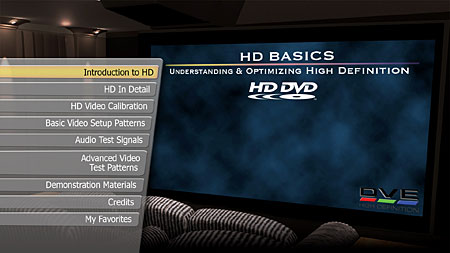 Fig. 1: The complete program menu provides access to all sections of HD Basics, including My Favorites on the HD DVD version.
WHERE TECHNOLOGY BECOMES ENTERTAINMENT