World Trade Center 2-Disc Commemorative Edition—Paramount
Video: 4
Audio: 4
Extras: 4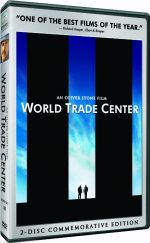 The massive reconstruction of Ground Zero for Oliver Stone's tribute to the heroes of 9/11 is one of the more fascinating DVD extras I've seen in a while. The set had to resemble the actual site and be flexible enough to allow for lighting and shooting in tight spaces—all while being safe for the crew to work on and around.
The featurette is one of several on this two-disc edition, which is impressive in both the breadth and quality of the extra material. A documentary on the real-life rescue and painstaking recovery of Port Authority cops Will Jimeno and John McLoughlin, who miraculously survived the collapse of the Twin Towers, includes interviews with their surgeons and rehabilitation therapists. You also get deleted/extended scenes and two commentary tracks. The director's remarks are yawn inducing, but Stone serves up the occasional peek behind the curtain. The second features Jimeno and three rescuers, who provide amazing insight into the myriad of details the film captures both before and after the collapse.
Despite much of the film being set in the dark rubble of the towers, the 1.85:1 anamorphic picture delivers detail of the victims' faces and the astonishing set design well. But the audio wins the technical derby. The Dolby Digital 5.1 track serves up a visceral rumble when the towers come down and unnervingly jarring surround effects when other grisly events occur.
Like United 93, WTC checks politics at the door and focuses on survival, hope, and heroism, all the good things that came out of that most awful of days.
LATEST VIDEO