Walk the Line—20th Century Fox
Video: 4
Audio: 5
Extras: 3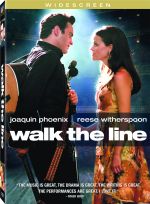 The hardest decision a filmmaker has when creating a biopic is deciding what events to include. It may be easy to pare down the sum of my existence into a tidy, two-hour package, but I'm no Gandhi…or Richard Nixon or William Wallace or Mozart. These men led complicated, dense lives, and their biopics reflect that complexity with running times of three hours or more. In Walk the Line, director and cowriter James Mangold shows remarkable restraint in telling the story of his idol, Johnny Cash, in just over two hours. Cash's life was no less dense, no less complicated. But Mangold chose to focus on the events leading up to 1968, a pivotal year in which Cash recorded At Folsom Prison, kicked his decade-long drug habit, and married June Carter. Up to that point, Cash lived a troubled, haunted existence, but, in 1968, he found redemption. That, for Mangold, was the story to tell, and he tells it very well.
Walk the Line is available on DVD in a full-screen version, a widescreen version, and a two-disc Collector's Edition. We received the widescreen version, which is also disc one in the Collector's Edition. The packaging lists the aspect ratio as 2.39:1 anamorphic, but it measures closer to 2.23:1, leaving more black space along the bottom of the screen than the top. This doesn't detract from the attractive transfer, which boasts natural colors and a fine amount of detail. Not surprisingly, the disc's best attributes are its Dolby Digital 5.1 and DTS soundtracks, which do an outstanding job rendering both dialogue and music. The simplicity of Cash's signature guitar/bass/vocals sound will highlight the strengths in a well-balanced 5.1 system and make for some great demo material.
The bulk of the bonus content is reserved for the Collector's Edition: extended music sequences, a making-of, and featurettes about the Folsom Prison concert and Johnny and June. On this disc, you get 10 deleted scenes with optional commentary by Mangold and a full-length commentary track by Mangold. I must say, it's one of the more engaging commentaries I've heard, especially for a solo track. Mangold's passion for filmmaking and music is clear, and his insights complement the onscreen story without being redundant. Perhaps DVD is what allowed Mangold to show such restraint with the film, knowing that he would later have a platform to tell the rest of the story for those who want to hear it.