Underworld Two-Disc Unrated Extended Cut—Sony Pictures
Video: 5
Audio: 5
Extras: 4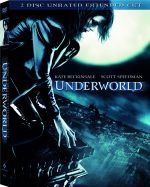 Make no mistake—this is the exact same edition that was released over a year ago. The only difference is the addition of a third disc (despite the package's Two-Disc status) touting the virtues of the recent sequel Underworld: Evolution. As it stands, the movie is still rather weak.
Underworld is a film about the ongoing battle between vampires and werewolves (here, called Lycans), and how the very attractive vampire Selene (Kate Beckinsale) falls in love with the Lycan Michael. All flash, no substance perfectly sums up the movie.
However, flash is all right when you're watching it in crystal-clear perfection. The movie is gorgeous to look at—like a graphic novel come to life in a 2.35:1 aspect ratio. And, with the sheer amount of gun fighting in the film, the Dolby Digital 5.1 does its job and whizzes those bullets past your head.
The special features are abundant on this two-disc set. Again, they're the same ones on the previous edition. About an hour and a half of documentaries chronicle the look, the effects, and the stunt work. There's also a generic music video, a look at the mythical creatures in real life, and director and actor commentary tracks. The Underworld: Evolution disc is pretty flimsy and works better as a coaster. But there is a neat comic book that comes with the package.
Overall, it's a lot of effort for something that's been available for a while now. Still, it looks really good.
LATEST VIDEO