Trust the Man—20th Century Fox
Video: 4
Audio: 3
Extras: 2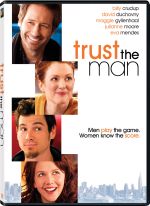 Trust the Man, Fox's latest depiction of love in modern times, seems more of an anti-romance in that it focuses on the mundane realities of coupledom. Julianne Moore and David Duchovny are Rebecca and Tom, the film's key married couple, and they're headed for the inevitability of divorce. As an ambitious Broadway actress, Rebecca's workaholic tendencies force her stay-at-home husband to stray into the dangers of infidelity. On the other side of town, Elaine (Maggie Gyllenhaal), now ready for marriage, struggles with her noncommittal boyfriend of seven years, Tobey (Billy Crudup). While Trust attempts to distinguish itself by focusing on reality over romance, the film is simply annoying, flat, and boring.
The DVD's saving grace is its fine video quality, presented in a 2.35:1 anamorphic format. Most noticeable is the sharp picture quality, exhibiting crisp detail. The audio (Dolby Digital 5.1) is adequate, although Trust is not the sort of film that requires much of your speakers, unless you really do need to hear these couples whine about everything. Special features include an audio commentary by writer/director Bart Freundlich and actor David Duchovny, as well as deleted scenes with an optional audio commentary. Don't expect the featurette on this production to be any more interesting than the movie itself.
If the idea behind Trust the Man is that romance has been killed by reality, it only succeeds in showing that love is simply difficult sometimes. If you're really in the mood for something bittersweet, reach for a classic like Roman Holiday or Casablanca instead.
LATEST VIDEO