The Sea Inside—New Line
Video: 4
Audio: 4
Extras: 4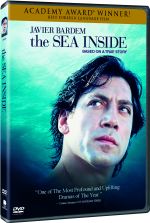 A sad but strangely triumphant story, The Sea Inside follows the life of a quadriplegic who spent nearly three decades fighting for his right to assisted suicide. Javier Bardem plays the resolute man, poet Ramon Sampedro, who was paralyzed in a diving accident in his late teens and struggled with the Spanish government until 1998. Although writer/ director Alejandro Amenabar never attempts to justify Sampedro's decision, he draws a multifaceted character whose reasons for choosing to end his life make sense, no matter which side of the debate you might fall on.
This Best Foreign Language Oscar winner is stunning to behold on DVD, boasting a razor-sharp 2.35:1 anamorphic picture. In fact, the pleasing color palette of wonderful oceanic blues and muted seaweed greens is almost enough to distract the viewer from keeping up with the subtitled dialogue.
While the conversation-driven Dolby Digital 5.1 soundtrack offers easy-to-understand dialogue for Spanish-speaking audiophiles, it's the soaring score that showcases what the disc really has to offer. It doesn't attempt to rattle the rafters like a summer blockbuster, but its goose-bump-inducing highs and rich-sounding lows make for an emotional experience.
A robust extras package includes several deleted scenes and a feature-length commentary track from Amenabar, as well as a subtitled making-of documentary that delves into the challenges of portraying a real-life character in a feature film.
Despite a decidedly dour subject matter, The Sea Inside is well worth a first (or second) look on DVD.
LATEST VIDEO