The Life Aquatic with Steve Zissou—Buena Vista
Video: 3
Audio: 4
Extras: 5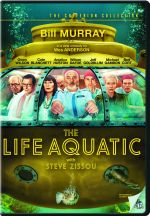 For The Life Aquatic with Steve Zissou, writer/director Wes Anderson found a new writing partner. Gone is Owen Wilson (as writer, but not as actor), who helped him pen Bottle Rocket, Rushmore, and The Royal Tenenbaums—replaced with Noah Baumbach, writer/director of one of my all-time favorite indie films, Kicking and Screaming. Add Bill Murray as the title character, and I couldn't wait to see what kind of exquisitely wry tale lay ahead.
Unfortunately, something doesn't quite click in this quirky story about an oceanographer who's facing personal and professional crises. His wife (Anjelica Huston) has left him, he's trying to bond with a man (Owen Wilson) who may or may not be his son, and he's got a pregnant yet feisty journalist (Cate Blanchett) following his every move—all as he searches for the elusive shark that killed his partner. While the film interested me from start to finish, it never fully engaged me. I wanted to care more about these people. Dare I suggest that it was actually too wry for its own good?
As usual, Criterion has done a wonderful job creating this two-disc set. The film has a complicated visual style, blending almost cartoonish-colored underwater sequences with warm, lush European locales. The 2.35:1 anamorphic picture does each environment justice, with rich blacks, colors, and textures. The Dolby Digital 5.1 and DTS soundtracks focus primarily on rendering dialogue and music in the front channels, and they do a fine job of it, although I did have to reach for the remote a few times when transitioning from a soft dialogue sequence to a loud musical passage.
An excellent bonus package is a given with a Criterion Collection disc. Disc one features a making-of, deleted scenes, and commentary by Anderson and Baumbach—the first censored commentary I've ever heard, which I hope isn't the beginning of a bad trend. Disc two serves up a little something for everyone—from a professionally produced, hour-long documentary, to an intern video diary, to an odd Italian talk show. I found the interview with composer and former Devo singer Mark Mothersbaugh especially interesting.
This film may not be Anderson's best, but it's still better than the Hollywood norm. Fans will definitely appreciate Criterion's in-depth examination of this truly creative filmmaker at work.