The Last King of Scotland—20th Century Fox
Video: 2
Audio: 3
Extras: 4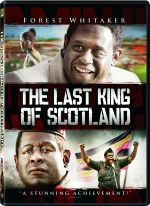 The Last King of Scotland isn't the first film to weave a fictional story around real-life people and events, but I struggled with this one's questionable dramatization of some actual events. As a piece of fiction, though, it's a gripping tale of a young Scotsman who becomes Ugandan president Idi Amin's personal physician and witnesses Amin's transformation from visionary to madman.
All of the film's performances are strong, but Forest Whitaker is simply mesmerizing, well deserving of the Academy Award he won. He brings the needed charm and ferocity to a complicated man, yet it seems a shame that such a performance is spent on a fictitious story. Is the real saga of Idi Amin not interesting enough to merit a feature film? Must a fictitious Westerner serve as both catalyst and conscience for the story to be relevant?
I also struggled with this DVD, as it contains one of the poorer-quality transfers I've seen. The 2.35:1 anamorphic picture is generally soft, and many scenes are filled with compression artifacts like blocking and mosquito noise. Admittedly, I reviewed a prerelease copy, so perhaps the final transfer will be better. The Dolby Digital 5.1 soundtrack offers clear dialogue and dynamic musical sequences. Ironically, the engaging bonus content is to blame for my misgivings about the film, for it is in the "Capturing Idi Amin" featurette that fact is separated from fiction. You also get an interesting commentary track by director Kevin Macdonald, deleted scenes, and additional cast and crew interviews.
Whitaker's performance is reason enough to see this movie, but the DVD's subpar video quality relegates it to the rental shelf.