The Jacket—Warner Brothers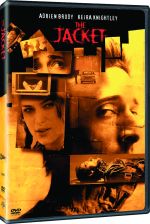 Video: 3
Audio: 4
Extras: 3
The Jacket wants to be a better film than it actually is. The premise is intriguing: Gulf War veteran Jack Starks (Adrien Brody), wrongfully committed to an insane asylum for murder, is subjected to behavior modification in which he's drugged, put in a straightjacket, and locked in a morgue drawer. During his sessions, he doesn't just see the future; he lives it. When he learns of his own mysterious death, he tries to put the pieces together to save himself.
Far-fetched? Sure, but that's not why the film doesn't quite work. It suffers from too many unnecessary subplots and peripheral characters that take valuable time and energy away from the main story. Brody's natural demeanor is one of intensity and vulnerability, and his performance kept me engaged in the story despite the distractions.
The film is intentionally dreary, both in its colors and its characters, so nothing in the 1.85:1 anamorphic video is meant to look that good. The transfer is clean, though. The Dolby Digital 5.1 soundtrack offers clear dialogue and makes effective use of the sub and surrounds during Jack's sessions in the jacket. The bonus content consists of a 10-minute featurette about the special effects and a 30-minute making-of that intercuts cast and crew interviews with deleted scenes and a few alternate endings. Interestingly, the interviews appear to have been shot in HD video, something we'll likely see more of.
Despite its flaws, The Jacket honestly presents characters trying to deal with worldly suffering and otherworldly intrigue at the same time. Its performances are worth a look.