The Interpreter—Universal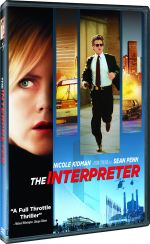 Video: 4
Audio: 4
Extras: 4
The Interpreter is an intelligent political thriller, a definite cut above the action movies trying to pass themselves off as thrillers nowadays. Nicole Kidman plays United Nations interpreter Silvia Broome, who overhears a possible assassination plot against the dictator of her native African country. Secret Service agent Tobin Keller (Sean Penn) is assigned to protect the presumed target, so it falls on him to determine if Silvia is lying or perhaps even involved in the plot.
The 2.35:1 anamorphic picture has a rich, filmlike look, with good detail, accurate fleshtones, and natural colors. Dialogue is generally clear throughout the Dolby Digital 5.1 soundtrack, but I did find the subtitles useful in a few spots. The surrounds handle music and ambient effects well.
The bonus content focuses on director Sydney Pollack. He discusses the making of the film in a 10-minute interview, gives an interesting diatribe on the evils of pan-and-scan that our readers will love, and provides full-length commentary that intersperses insight with complete silence. Other extras include an alternate ending, a featurette about shooting at the United Nations, and interviews with actual U.N. interpreters.
The Interpreter isn't without its flaws. As Pollack mentions in his commentary, they were never certain how far to take the romantic chemistry between the two stars, and that ambivalence comes through, marring some otherwise poignant scenes with unnecessary sexual tension. The plot can be confusing at times, but isn't that what DVD is for? A second viewing is quite revealing and just as engaging.