The Dukes of Hazzard Unrated Edition—Warner Brothers
Video: 4
Audio: 4
Extras: 4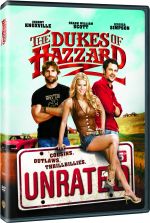 I have a pretty low opinion of remakes of classic TV shows. But I loved The Dukes of Hazzard when I was a kid, and the cast and crew on this one seemed like they could reproduce the stupid fun of the TV show. Well, I think they did a great job. That's right—I think this movie is fun and funny. To anyone expecting more, I have to ask, "Did you ever see the TV show?" It stars Johnny Knoxville and Seann William Scott, who have made careers of having fun in bad movies, and Jessica Simpson, who allegedly has a career doing something. The plot revolves around the Duke boys needing to save Uncle Jesse's farm (duh). An oddly cast Burt Reynolds is pretty good as Boss Hogg, and a simply odd Willie Nelson is surprisingly funny.
The anamorphic 2.35:1 picture is pretty clean, with very little noise. It's not quite as detailed as it could be. The Dolby Digital 5.1 mix is pretty loud throughout, although the dialogue is still audible over the music and sound effects.
The extras are almost as much fun as the movie itself. The behind-the-scenes documentary is great, as is the featurette on all the car jumps (no computer graphics!). There are a few other short featurettes, a bunch of deleted scenes, and a ton of gag takes. Also included is Jessica Simpson's embarrassing "These Boots Are Made for Walking" video.
If you like dumb movies, or the dumb TV show this was based on, this one is definitely worth a rental.
LATEST VIDEO