The Devil and Daniel Johnston—Sony Pictures
Video: 3
Audio: 2
Extras: 4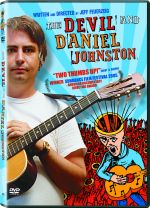 The mind of an artist is a frightening place, more so if you're Daniel Johnston. The Devil and Daniel Johnston is a documentary about this troubled "genius," covering those closest to him as he's grappled with mental illness and unlimited artistic vision. Using an inexhaustible amount of archival footage, the film paints a portrait of Johnston, showcasing his artistic endeavors from childhood to recent years. Countless fans across the globe celebrate his work, hailing the cult hero.
The 1.85:1 format offers a crisp image, which is most useful when watching the grainy old Super 8 footage from Johnston's past works. The footage is rough, but it looks cleaner than it most likely ever has. The Dolby Digital 5.1 soundtrack is adequate, but, again, most of the materials the film present (Johnston's old recordings, for example) are of such poor quality that the Dolby adds little. The disc barely uses DVD's surround sound capabilities, which is surprising and disappointing.
There are bonus features aplenty, including a commentary with the director and producer that's just as intriguing as the film. Also included are some of Johnston's childhood films, his audio diaries, a radio broadcast with Johnston and some of his music, deleted scenes, and a quite sweet reunion between Johnston and Laurie Allen, a woman who is practically Johnston's muse.
It's a fascinating film, inspiring feelings of wonder, admiration, and sadness. The DVD is a nice complement to the film and the subject it showcases.
LATEST VIDEO