Roll Bounce—20th Century Fox
Video: 4
Audio: 5
Extras: 4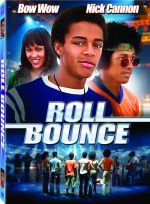 To blast off his 1970s roller-boogie film, director Malcolm D. Lee (Undercover Brother) chose R&B hits like Parliament's "Flashlight," Bill Withers' "Lovely Day," and Johnny "Guitar" Watson's "Superman Lover." But that is early in Roll Bounce, when our heroes are rulers of the South-side Chicago roller rink that they call home. As that arena has closed, Xavier aka "X" (Bow Wow) and his friends travel to the cool kids' rink, Sweetwater, where disco reigns. While hormones rage, X and his crew of underprivileged adolescent misfits try to make Sweetwater their own. The jarring musical shift into disco reflects the boys' alienation, but the South-siders keep on moving, which is what this coming-of-age/roller-disco/dance-off spectacular will make you want to do.
Anamorphic 2.35:1 video and the film's colorful 1978 costumes and production design fit perfectly, but it's the Dolby Digital 5.1 that takes center stage. Good-natured dialogue, fantastic sound design, and jazz great Stanley Clarke's supremely funky score propel the film, with bass flourishes that will make your woofers just sing.
Special features include three commentaries, deleted scenes, lackluster behind-the-scenes featurettes, a fun featurette on skating competitions held to promote the movie, a lengthy gag reel, and a music video.
Bow Wow shines, as does Chi McBride as his father. Lee's direction is confident, and the script is strong, save for a weak climax. If you can appreciate the athleticism of skating and are a fan of bumpin' '70s jams, sho' nuff you can bounce to this!
LATEST VIDEO