iPod Speakers Get Serious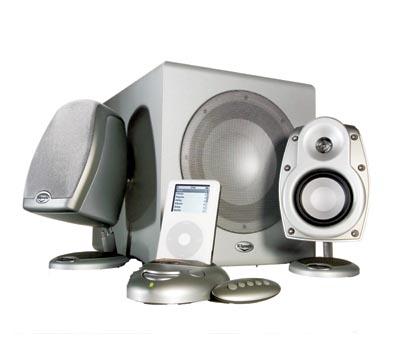 The Short Form
klipsch.com/ifi / 800-554-7724 / $400 / Satellites 8.75 IN high / Subwoofer 10.75 x 10.75 x 14 IN, 25 LBS
Plus
•Great sound for iPod speakers. •Finish mirrors high-end Macs.
Minus
•None to speak of.
Key Features
•iPod dock with separate sub/system volume controls •RF remote control with 100-foot range •Satellite .75-in tweeter, 3.5-in midrange; subwoofer 8-in driver, 200-watt amp •Rotating base and wall-mount options •Dual aux audio inputs
We live in an iPod-centric world. You have one, I have one, my wife has one, and it's probably just a matter of time before my preschool-age daughter wants one. And while many people now listen to music exclusively on their iPods, a slew of mostly portable iPod "speaker" add-ons have sprung up to let them enjoy tunes when they're not in transit. The problem with most of these is that they sound bad.
That was my thinking, at least, before I heard the Klipsch iFi system. Klipsch took the step here of using real satellite speakers and a powered subwoofer - a radical idea in the world of iAudio. The silvery speakers match the sleek aluminum design of recent top-of-the-line Macintosh computers and come with a sturdy dock for your iPod, iPod photo, or iPod mini that connects to the subwoofer by a supplied cable. An iPoddish scroll wheel lets you adjust volume, and you can also use it to adjust the bass after pressing a button labeled Subwoofer. There's a mute/standby button and a stereo minijack input on the back for plugging in a CD player or whatever.
SETUP AND OPERATION The iFi isn't an all-in-one thing that you just plunk down on a kitchen counter. It's a sub/sat speaker system with 200 watts total power - the sub's built-in amp also powers the sats, and the system comes with speaker cables. You set up the iFi as you would regular speakers, taking care to position the satellites for wide imaging and the subwoofer for the most satisfying bass. Big plus: the satellites' swiveling-ball attachment and base plate can be rotated for a wall-mount installation.
I found immediate use for the iFi alongside my computer. After positioning the sats about 3 feet apart to form an equilateral triangle with my head, I stowed the sub next to the wall under my desk and plugged my Mac's audio output into a second minijack audio input on the sub's back panel. Unlike the dock's aux input, which mutes the iPod when it detects a signal, this one mixes your computer's audio with the iPod. The idea is to let you hear "You've got mail!" without interrupting the music. The sats worked well, delivering a spacious stereo image with good detail. And balancing the bass didn't take long. The process was helped along by an LED bar on the dock that lit up to indicate both subwoofer and overall system level. The iFi's small, lozenge-shaped RF (radio-frequency) remote control lets you pause, play, and skip tracks as well as adjust volume - handy if you're using the iFi as your main stereo system.
PERFORMANCE With my 10-GB iPod plugged into the dock, the iFi's performance turned out to be a real revelation. Songs I'd downloaded from the iTunes store and heard only with earphones sounded startlingly full, detailed, and lifelike. Played on the iFi, the sunny Britpop of the Delays' "Long Time Coming," for example, turned out to have shimmering layers of percussion and vocals that I hadn't previously noticed. And unlike most other iPod speakers I've tested, the iFi didn't sound harsh when I cranked the volume up.
The iFi sub lacked serious low end (waddaya want for $400?), but the bass from its 8-inch woofer wasn't boomy. On "If You Knew," a live Neko Case track from her CD The Tigers Have Spoken, the bass was tight and tuneful. And both the reverb-laden guitar and Neko's Patsy Cline-like belting had a smooth, liquid quality that was easy on the ears.
BOTTOM LINE I'm glad to know that people who rely solely on their iPods and computers for music listening now have a high-fidelity alternative to the mostly bad speaker solutions out there. Klipsch's iFi is the real deal. If you're seeking a good, inexpensive way to extend your iPod into your living space, look no further.
LATEST VIDEO