iPod Extreme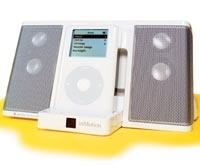 Minisystems by Al Griffin
Altec Lansing inMotion iM3 ($180) Like the iPod itself, Altec Lansing's inMotion iM3 is designed for people on the go. The compact system snaps flat for travel and includes a soft case with separate compartments for the main unit and power supply (it can also run on four AA batteries). There's a small remote with basic controls to adjust volume and to play, pause, and skip tracks. Once you snap the iM3 into standing position, its docking station sits at the ready to accept your iPod or iPod mini. I couldn't get any of the iM3's adapters to allow an iPod to do anything other than fit loosely in the dock, but I was cheered to see that its stereo mini cable let me plug in my old-ass, dockless, first-generation 'Pod.
Listening to the Rolling Stones and Spoon (good kitchen band) at a moderate volume, I realized that the iM3 might be better suited to audiobooks than music. The sound reminded me of AM radio, with minimal bass and treble, and a midrange on par with the iPod's mediocre earbuds. All of these shortcomings only got worse when I cranked things up. If you want to kill time in a hotel room listening to that David Sedaris audiobook you downloaded, the inMotion iM3 is for you. But for rocking the iPod on the kitchen counter, this system probably won't cut it. Verdict: A compact and travel-friendly but anemic-sounding speaker system. alteclansing.com
DLO iBoom ($150) A boombox for the iPod era, DLO's iBoom has something that's lacking in the other minisystems here: an FM tuner. The tuner controls, including two station-preset buttons, are on the front panel along with an LED display and a volume knob. An iPod mini or any iPod with a docking connector can be plugged into the front dock, and you can also connect devices like a CD player to a minijack on the iBoom's side. Portability is a must for any boombox, and by loading six D batteries and grabbing the iBoom's carrying handle, you can take your tunes with you. Unfortunately, the battery compartment also houses the power cord, forcing you to remove the cover to plug in the iBoom.
The iBoom lacked bass, but its highs were crisp and its midrange relatively clear. However, unlike the monster-size boxes of the early 1980s - the boombox glory days - the iBoom couldn't play loud without sounding raspy and distorted. Listening to the Stones' "Emotional Rescue" (talk about the '80s!) while slicing carrots in my kitchen, I kept reaching to lower the volume. But when five o'clock rolled around and it was time to listen to NPR, I was sure happy about the iBoom's tuner. Verdict: While it can't produce playground-filling sound, the iBoom's FM tuner gives it an edge. dlodirect.com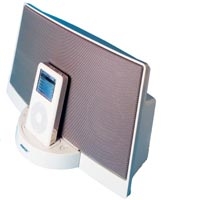 Bose SoundDock ($300) An elegant slab of white, heavy-duty plastic, Bose's SoundDock is both easy on the eyes and easy to use. And once you get over its price - at $300, the SoundDock costs much more than similar iPod speaker systems, even ones with features like portability, an FM tuner, or an external input - you're bound to like what you hear. The SoundDock provides a central docking station for an iPod mini or later-generation iPod outfitted with a dock connector (an assortment of adapters are provided). Volume buttons are located on the SoundDock's front, and it comes with a credi-card-size remote to adjust volume and to play, pause, or skip forward and back through the tracks on your playlists.
The SoundDock looked cool on my kitchen counter and played surprisingly loud without distortion when I cued up the Stones' "Brown Sugar" (good kitchen music). Vocals were slightly lean, but the highs were well balanced and there was a good deal more bass than on the other systems I tested. The SoundDock also projected uniform sound over a wide arc - no matter where I wandered, "Brown Sugar" sounded equally sweet. Verdict: A well-built but pricey minisystem with reliably good sound. bose.com
JBL On Stage ($160) It looks like a big ashtray, but JBL's On Stage is actually a cleverly designed desktop audio system that delivers spacious sound for its size. I call it an "audio system" because, along with a dock for any iPod or iPod mini with a dock connector, the On Stage has a minijack input and accessory cable to plug in a CD player, an older iPod, or a computer's audio output. And a second dock connector on the back lets you sync it directly to your PC or Mac to update the iPod's library. Pretty versatile for an ashtray! The On Stage doesn't have a remote control, but a pair of touch-sensitive buttons let you adjust volume, or you can mute the sound by pressing both buttons at the same time. While the On Stage is small enough for travel, you can't use batteries with it, and its huge wall-wart power supply will make you think twice before tossing it into your pack.
If you're looking for bass, the On Stage will leave you disappointed. Its clear midrange made vocals sound natural from almost any spot in my kitchen, but the kick drum in the tracks I played barely registered beyond a light thump. And with bass removed from the mix, the sound was too bright - cymbals were sizzly. Although the On Stage could play fairly loud, its forward sound quickly became fatiguing - better to play this puppy at moderate volume. Verdict: The On Stage's sound is more sizzle than boom, but its size makes it a good choice for small spaces. harman-multimedia.com
LATEST VIDEO