Lord of War—Lions Gate
Video: 3
Audio: 4
Extras: 1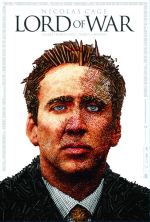 If you think you hate your day job, wait until you meet Yuri Orlov. Based on actual events, Lord of War follows the illustrious career of this quietly charismatic arms dealer as he travels the world hocking his explosive wares. Take caution, however; writer/director Andrew Niccol's got a moral agenda up his celluloid sleeve, and Cage does an excellent job delivering his message. Orlov may never have pulled a trigger on his own accord, but he is nevertheless a warlord—or rather, a lord of war, as one character prefers it.
The anamorphic 1.78:1 presentation has outstanding color, although the picture appears grainy in dark shots. There is also an interesting mix of digital images fused into the film so smoothly that you must discern carefully to see if what you're looking at is in fact real or CGI. The score by Antonio Pinto is a joy to hear on the Dolby Digital 5.1 soundtrack and flows nicely against the backdrop of the ironically musical clang of bullets.
Don't bother searching around for special features. With the exception of movie trailers, the extras are reserved for the Special Edition release. You may just fall victim to this marketing ploy and reserve your Andrew Jacksons for that version instead.
If you're looking for a movie typical of the action/war genre, this is not the one for you. However, if you can appreciate black humor laced with a philosophical bent, then Lord of War makes a decent addition to your arsenal of DVDs.
LATEST VIDEO