Grilled—New Line
Audio: 2
Video: 2
Extras: 1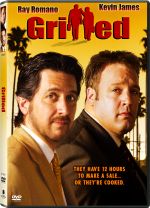 Two San Fernando Valley meat salesmen desperate to make a sale to avoid being axed get in over their heads when their last "lead," Loridonna (Sofia Vergara), unwittingly gets them caught up in a planned mob hit. Grilled is a mishmash of a movie, and, if you can make it to the end, you've done a yeoman's work.
Beleaguered and out of funds, Kevin James (from The King of Queens) needs the money for his kid's birthday gift, and Maurice (Ray Romano) needs it for acupuncture-school tuition, which rouses a small amount of chuckles. But that wears thin pretty quickly. The Dolby Digital 5.1 track is decent, although it isn't asked to deliver much, and the 1.85:1 anamorphic picture denotes the hazy heat of a Valley day adequately. But the whole experience is pretty ho-hum. The special features are minimal—a deleted scene and a couple of bland featurettes.
Uniformly fine actors like Juliette Lewis as a loopy drunk and Michael Rapaport as a hit man round out the cast. But Burt Reynolds is the standout as mob boss Cookie, the target of the hit. I appreciate the work it takes to get any movie made, and it's interesting to see Romano in something decidedly non-Raymond. But, after 35 minutes, and after learning that Vergara's character used to be a man, I checked to see how much time remained and sighed that there were 43 more minutes. Well, enough said.
LATEST VIDEO