Grey's Anatomy Season One—Buena Vista
Video: 4
Audio: 4
Extras: 2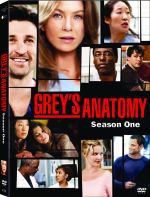 Hmm, a medical show featuring a lot of hot, young people...and that guy who played the geek in all of those '80s teen movies like Can't Buy Me Love and Loverboy as the heartthrob surgeon. Count me out. On the surface, Grey's Anatomy didn't seem to bring anything new to the already crowded table of TV medical dramedies. But the show's prime spot after Desperate Housewives on Sunday nights allowed it to occasionally make its presence known on my TV, and I found myself being reluctantly drawn in. The characters are engaging, the cast is talented, and the writing is surprisingly sap free. Now I'm hooked.
Since the show was a midseason replacement for ABC, this two-disc set only contains nine episodes, all of which were originally shot in HD and served up in Dolby Digital 5.1. That makes for a high-quality DVD presentation, with a nicely detailed anamorphic 1.78:1 image and a fairly robust soundtrack that doesn't do too much with the surrounds but does bring the show's great music—from artists like Rilo Kiley and Tegan and Sara—to life. The bonus content is less than impressive for a TV-on-DVD set: commentary for just one episode (the pilot), a short behind-the-scenes featurette, and a fair amount of deleted scenes—divided into featurettes called "Anatomy of a Scene" and "Dissecting Grey's Anatomy" to make you think you're getting something more.
Overall, though, this is a solid set, worth picking up if—like me—you wrote this show off prematurely and want to get caught up.