Forbidden Planet Ultimate Collector's Edition—Warner Brothers
Video: 4
Audio: 4
Extras: 4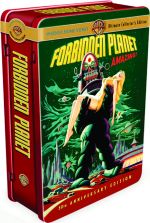 A 1950s sci-fi classic, Forbidden Planet is a futuristic spin on William Shakespeare's The Tempest. Fifty years later, it remains a fun and frightening cautionary tale of fathers, daughters, and hubris, replete with flying saucers, ray guns, and other technology far beyond our own.
The restored 2.35:1 anamorphic image boasts the type of sumptuous color-for-its-own-sake that movies just don't have anymore. The ambitious Eastman Color production has special effects that look clean and steady, even though many shots are composites of multiple film elements. Surprisingly, the original soundtrack is not included, but the new Dolby Digital 5.1 presentation is respectful and organic. It adds depth to the groundbreaking electronic musical score, while the great Krell machinery pulses with power. And just the right amount of sonic chaos ensues when the monster attacks. Discrete surround use comes into play occasionally throughout.
The bonus 1957 film, The Invisible Boy, costars Planet's Robby the Robot, as does a 1958 episode of the Thin Man TV series. The set also includes the hour-long "Watch the Skies!: Science Fiction, the 1950s and Us," "Amazing! Exploring the Far Reaches of Forbidden Planet," and "Robby the Robot: Engineering a Sci-Fi Icon." Eleven nonanamorphic widescreen deleted scenes, several minutes of full-frame special-effects test footage, and seven vintage trailers are also on disc one. This Ultimate Collector's Edition also includes a miniature Robby toy and lobby cards, all packed inside a nifty tin.
LATEST VIDEO