iFi Unleashes 'Best-Ever' Portable DAC/Headphone Amp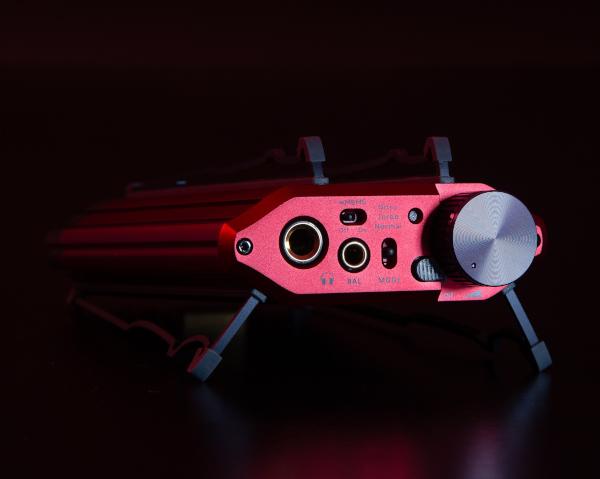 iFi, the U.K.-based company specializing in digital-to-analog converter/amplifiers for use at home and on the go, today introduced a portable battery-powered DAC/headphone amp aimed at audio purists.
The new flagship iDSD Diablo 2 ($1,299) is a complete redesign of 2021's iDSD Diablo featuring aptX Lossless Bluetooth connectivity, marking the first time that the lossless version of Bluetooth 5.4 has made its way into a portable DAC/headphone amp. High-resolution LDAC and LHDC codecs are also supported.
Beneath the striking red aluminum case with its heat dissipating channels, are four Burr-Brown DACs, two of which are installed in a custom 'interleaved' configuration to enable four pairs of differential signals (two pairs per channel); the layout is said to lower the noise floor and improve channel separation, while enhancing the chips' ability to resolve fine musical detail.
Sound quality is optimized by a 32-bit, 16-core XMOS Cortex microcontroller featuring "extensive jitter-eradication technologies," including the latest version of iFi's GMT (Global Master Timing) femtosecond-precision clock and smart storage cache."
The Diablo 2 supports PCM audio up to 32 bits/768 kHz and all levels of DSD to 22.6 MHz (DSD512) via separate pathways, thanks to the Burr-Brown chips' True Native architecture, which enables each signal to remain 'bit-perfect' right through to the analog conversion. MQA is also supported, with full decoding/upsampling up to the format's highest 384-kHz specification.
The DAC/amp also sports a robust headphone-amp section built to drive headphones ranging from highly sensitive in-ear monitors (IEMs) to current-hungry planar-magnetic headphones. Rated power output is 5,180mW into 32 ohms and 611mW into 600 ohms (through the 4.4mm balanced output), making tough loads easy to handle.
The amp provides three gain settings: Normal (0dB), Turbo (+8 dB), and Nitro (+16 dB) in addition to an IEMatch attenuation mode for super-sensitive IEMs, which is said to remove potential background noise while increasing usable volume range.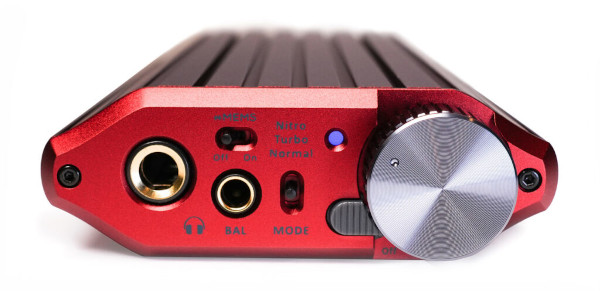 Adding to its impressive list of features, the Diablo 2 includes an output mode optimized for xMEMS solid-state microspeakers, a new kind of speaker in which a silicon diaphragm is combined with a piezoelectric layer to create a tiny speaker capable of phase and transient response that is superior to traditional voice coil/magnet-based drivers; the speakers are voltage-driven, rather than current-driven, which makes special demands on an amplifier. The xMEMS mode was introduced earlier this year in a limited-edition version of the original iDSD Diablo called the Diablo-X.
To ensure signal purity in the analog domain, the Diablo 2 boasts the latest generation of iFi's fully-balanced PureWave twin-mono topology. Introduced in the original Diablo, the design is said to achieve exceptional linearity with low levels of noise and distortion.
Other key features include a direct-coupled circuit design, which is implemented without a conventionally applied DC servo, and the use of multiple feedback loops, each of which is optimized for a particular function — a configuration iFi calls OptimaLoop.
Battery life is rated at 6-12 hours, depending on headphone sensitivity and volume level, and the Diablo 2 can run on AC power when used with the supplied AC/DC adapter, which provides active noise cancellation circuitry to keep sonic performance as pure as possible.
Audio inputs include USB-C, coaxial/optical S/PDIF, and 4.4mm balanced analog with 4.4mm balanced headphone, 6.3mm headphone, and 4.4mm balanced line-level connections on the output side. iFi supplies a travel case with three digital audio cables, including a Lightning-to-USB-C cable for iOS devices and a USB-C-to-USB-A adapter.
Detachable legs on the housing of the Diablo 2 enable the device to be situated horizontally or vertically. For more information, visit ifi-audio.com .