DiG!—Palm Pictures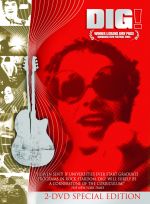 Video: 3
Audio: 3
Extras: 5
Filmed over a seven-year period, DiG! is a human, realistic documentary about the road to professional prosperity in our modern music market. It follows the Brian Jonestown Massacre and the Dandy Warhols, two closely linked bands (both musically and personally) from what is more or less their beginnings.
Along the way, the Dandies achieve some mainstream, major-label success, while the folk-infused BJM struggles with issues of how to sell their music while maintaining artistic integrity. Furthermore, BJM's efforts are repeatedly sabotaged by violent, onstage outbursts, primarily invoked by the complicated yet charming front man, Anton Newcombe. The most notable is a fistfight that Newcombe incites with his own band while performing at a show for several major record labels; they don't get signed.
The DVD is rendered in a 1.33:1 aspect ratio with Dolby Digital 5.1. The sound and video quality varies, as much of the footage seems to be done with various home-video-type cameras. It is nothing short of what you would expect from most documentaries. The cinematography is quite appealing, and the live performances, particularly those of BJM, are not to be missed.
The second disc offers a generous serving of unused footage, much of which really helps flesh out the story line and characters. Other extras include three commentary tracks, a number of music videos and live performances, and updates on most of the bands' members. Newcombe, who has voiced disappointment about his portrayal in the documentary, is conspicuously absent.